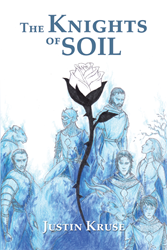 COLORADO SPRINGS (PRWEB) June 18, 2018
Examining moral and spiritual themes in the form of a fantasy novel, author Justin Kruse takes readers on an intense journey that questions the line between good and evil in "The Knights of Soil."
The novel is about two barbarians, Theadus and Sayven, who lead an attack on a fortress called Thiven Seax. When the fortress is overthrown, only one resident is taken captive, a woman named Arusen. Desiring to have Arusen as his own, Theadus opens himself up to her, but in turn is swayed to her view. Thus, he decides to give up the fortress. However, his men refuse to go along with him and instead drive him out into the wilderness along with Arusen and Sayven.
"This book focuses on moral and spiritual themes that modern fiction seems to be largely overlooking," said Kruse. "However, by looking through the eyes of characters who begin as villains, this novel does not attempt to blatantly tell readers right from wrong, but to simply question our purpose as the main characters are introduced to new ways of thinking."
As a story of renewal, "The Knights of Soil" is inspired by many religious principles that focus on what hinders people, what provokes them, and what allows them to accept growth.
"The Knights of Soil"
By Justin Kruse
ISBN: 9781524523190 (softcover); 9781524523183 (eBook)
Available at the Xlibris Online Bookstore, Amazon, and Barnes & Noble
About the author
Justin Kruse was born a middle son to a poor but unbelievably loving family. He was raised in a generation that he never felt quite in line with, often thinking that his heart belonged in another era. Kruse spent much of his childhood adventuring through forests, hills, and rivers with his siblings and cousins. When activities of this sort could not be done, he was engrossed in creative pursuits. A life filled with fine art, music, and storytelling spurred Kruse's imagination to great depths. The inspiration for his writing is most largely pooled from classical works of mythology, the sort that speaks a wealth of wonder, optimism and morality.
###
Review Copies & Interview Requests:
LAVIDGE – Phoenix
Bryan Beach
480-306-6554
bbeach(at)lavidge(dot)com
General Inquiries:
LAVIDGE – Phoenix
Kiersten Woglom
480-998-2600 x 586
kwoglom(at)lavidge(dot)com