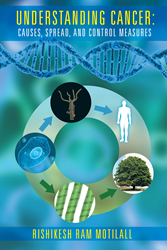 MINNEAPOLIS (PRWEB) June 18, 2018
Rishikesh Ram Motilall's book "Understanding Cancer: Causes, Spread, and Control Measures" is a comprehensive yet simple description of what causes cancer and how humans can understand what is happening in their bodies. Although cancer is referred to as a disease, it is a part of life that includes growth and reproduction.
Any process of life that is repetitive has the potential to incur and repeat mistakes, but not necessarily in the same way every time. Cell division (which is an integral part of reproduction) is subject to mistakes. Generally, a misfit cell cannot survive. If it does, the human defense mechanisms can destroy it. However, if a nonidentical cell lives and propagates, cancer results. The cancerous growth, if able to proliferate, will function differently and interfere with organ or mass cell function.
"I wrote this book because many family and friends do not understand what cancer is, what are the causes, and why certain people have it," said Motilall. "Another important detail is that it can run in family lineage."
With the prevalence of cancer in modern society, "Understanding Cancer" is a resource for non-medical professionals to learn more about cancer beyond a simple textbook definition.
"Understanding Cancer: Causes, Spread, and Control Measures"
By Rishikesh Ram Motilall
ISBN: 9781514400142 (softcover); 9781514400135 (hardcover); 9781514400159 (eBook)
Available at the Xlibris Online Bookstore, Amazon and Barnes & Noble
About the author
Born on the Corentyne Coast of Guyana, South America as the eighth of ten children, Rishikesh Ram Motilall had a small-village upbringing. He attended the University of Guyana and studied biochemistry. Motilall emigrated from Guyana in 1981 to Minnesota, USA, where he has lived until now. He has been involved professionally for the last 38 years in the formulation and production of several categories of products, including personal care products and other chemical specialty products.
###
General Inquiries:
LAVIDGE – Phoenix
Bryan Beach
480-306-6554
bbeach(at)lavidge(dot)com
Review Copies & Interview Requests:
LAVIDGE – Phoenix
Kiersten Woglom
480-998-2600 x 586
kwoglom(at)lavidge(dot)com