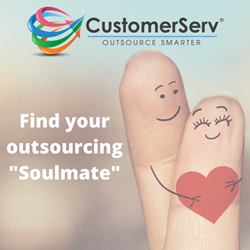 It's the same great team and the same great business, but with a completely new look and feel.
SUGAR LAND, Texas (PRWEB) June 14, 2018
CustomerServ, a company that helps businesses find their ideal call center outsourcing partner, is excited to announce the launch of their newly redesigned website CustomerServ.com. The fresh site aims to be a valuable home for any brand or organization hoping to learn more about call center outsourcing, offering an improved user experience and a wealth of presenting knowledge for visitors.
"Over the last few years we've been so focused on creating successful outsourcing partnerships that we've downplayed our own brand a little bit," says CustomerServ Founder and President Nick Jiwa of the company's decision to build a new and improved home on the web. "It's the same great team and the same great business, but with a completely new look and feel."
CustomerServ's ultimate goal is to help its users outsource smarter. At the new CustomerServ.com, both current and prospective clients will find a wealth of updated features designed to help them do just that:

Downloadable case studies. See how CustomerServ has helped revolutionize organizations across countless verticals.
The CustomerServ Blog. Find free insights, tips, and more straight from the call center industry experts.
Brand new FAQ. How does CustomerServ work? Here's where visitors can get the detailed scoop.
Newly expanded about section. Learn how CustomerServ's rich history and deep knowledge base can guide you towards outsourcing success.
Users are already praising the overhaul as a "wonderful" and "informative" resource that makes learning about the outsourcing process easy. "You took a complicated process and broke it down into smaller pieces that all fit together," wrote one satisfied visitor. Stay tuned for even more new features!
About CustomerServ: CustomerServ is an outsourcing ecosystem bringing three decades of data, expertise, and a rigorous vetting process to match businesses with the most compatible call center outsourcing vendors at no fee. Founded in 2006, the company helped pioneer the call center outsourcing industry and revolutionized how "success" is defined in an outsourcing relationship. The CustomerServ team has vetted hundreds of call center BPOs and continues to vet rising stars to offer a more predictable way to secure the best vendor relationships.