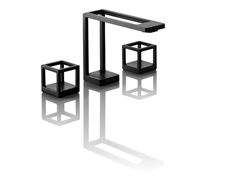 KOHLER, Wis. (PRWEB) June 14, 2018
The International Interior Design Association (IIDA) and Hospitality Design magazine recently unveiled the winners of its 22nd Annual IIDA/HD Product Design Competition. KALLISTA, The Grid Sink Faucet and Cube Handle, received top honors by winning Best of Competition. Grid also received 1st place for Best in Category under Hardware & Accessories. Sister brand Robern received 1st place for Best in Category under Casegoods & Freestanding Furniture.
The IIDA/HD Product design awards had 19 different categories within which companies could submit their product designs. Judges selected winners based on innovation, technical advancements, cost efficiency, environmental consciousness, aesthetics, client-user benefits, and need and usage in the hospitality industry. This year the awards competition was judged by a panel that included Chris Evans, senior associate with Rottet Studio; Michelle Reichert of MGM Resorts International; and Antunovich Associates senior principal and director of interior design Patricia Rotondo, IIDA.
KALLISTA The Grid Collection
From KALLISTA comes the Grid Collection, a series that celebrates the KALLISTA ideal to Live Artfully captured in an altogether new and unexpected way. The collection is comprised of the Grid Sink Faucet and Cube Handles, a wall-hung console, lighting and accessories and its Matte Black finish, which is exclusive to the collection.
Grid pays homage to the architects, designers, and artists that stepped away from 19th century design norms setting off an artistic revolution that literally took the world by storm. It was this shift from ornamentation and pomp to spare, restrained form that began a new genre in design – one that continued to grow throughout the mid-20th century and remains one of the most significant chapters in the history of design.
The KALLISTA Grid sink faucet employs 3D printing, resulting in Grid's unique design elements, which defy the standard requirements of external housing to incorporate internal components. To create the Grid faucet, KALLISTA partnered with Indianapolis-based 3rd Dimension, a 3D printing specialist and high quality production metal manufacturer. The faucet is paired with the graphic Cube handles, understated perfect open squares created by employing the investment cast process scaled appropriately to comfortably conform to the hand.
This boutique collection resonates with tailored elegance and harnesses the visual impact negative space can command by stripping away the confines of traditional design elements to expose the intrinsic beauty of simple, geometric form. Grid has become the latest star within the KALLISTA portfolio, pushing the boundaries of cutting-edge bath design.
Robern, The Profiles Collection
The Profiles Collection from Robern is a comprehensive assortment of medicine cabinets, vanities, mirrors, and task lighting that affords trade professionals and consumers with a complete toolbox to customize any living space. Clean, modern styling and the latest in technology come together to create the collection's integrated approach to interior design offering ala carte cabinetry and vanity sizes, lighting options, and wide range of glass and metal finishes that provide stylish solutions for every lifestyle.
Inspired elements of Art Deco design are woven into pared down Cubist styling to create the Profiles Collection modular offerings and incorporate high-function features and technological advances developed by Robern for its clientele for 50 years. From lighting, mirrors and medicine cabinets that can be ganged in dramatic presentation to vanities that offer integrated nightlights, in-drawer electrical outlets, slow close, tip out drawers, slim drawer inserts and organization kits offered in a range of glass and metal finishes, Robern offers a personalized approach.
The Profiles Collection high-functioning technology and depth and breadth of product provide almost limitless options to transform any space, blurring the lines of traditional and contemporary styling for a look that remains timeless.
About KALLISTA
KALLISTA is known for its designs of luxury plumbing products, offering faucets and fixtures thoughtfully created for tasteful, whole-bath solutions. KALLISTA is available in fine showrooms in major cities throughout the world. Kallista, along with sister brands Ann Sacks Tile and Stone, Inc., and Robern mirrored cabinetry and vanities, is a division of the Kohler Co. Decorative Products Group, a wholly owned subsidiary of Kohler Co. For more information, please visit http://www.kallista.com.
About ROBERN
Robern believes that people's everyday routines should never feel ordinary. That's why its mission is to craft mirrors, vanities, medicine cabinets and lighting options that are beyond the expected—blending thoughtful design, innovative technology, impeccable craftsmanship and quality materials into products that will transform people's styling spaces and reflect their individual style.
Founded in 1968 in Bristol, Pennsylvania, Robern grew out of Rosa and Bernie Meyers' belief that individual style should be celebrated and fostered. Today, their pioneering approach to designing highly personalized styling spaces remains at the heart of what Robern does. Their commitment to craftsmanship and fine materials is evident in every piece Robern makes out of its Bristol headquarters. In 1995, Robern joined the Kohler Co. family of businesses, building upon the brand's comprehensive and thoughtful approach to exceptional styling spaces. From its humble beginnings to a technological force within home design, Robern remains the answer for designers, architects and consumers seeking out the finest in modern, sophisticated cabinetry, vanities, mirrors and lighting. For additional information on Robern products, customers may call 1 (800) 877-2376 or visit http://www.robern.com.
About KOHLER®
Founded in 1873 and headquartered in Kohler, Wis., Kohler Co. is one of America's oldest and largest privately held companies. Kohler is a global leader in the manufacturer of kitchen and bath products, engines and power generation systems, cabinetry, tile and home interiors, and international host to award-winning hospitality and world-class golf destinations.