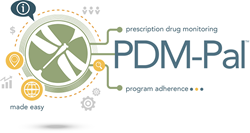 PDM-Pal© is another example of our ability to innovate and quickly answer any pharmacy related needs of our valued partners.
PITTSBURGH (PRWEB) June 20, 2018
A prescription drug monitoring program (PDMP) is an electronic database that tracks controlled substance prescriptions in a state. PDMPs can provide health authorities timely information about prescribing and patient behaviors that contribute to the prescription drug or opioid epidemic currently playing out in this country.
Accessing PDMP information can be complex and time consuming for hospices. Delta Care Rx has recently armed hospice clients with an easy to implement program that fits inside of existing workflow, called PDM-Pal™, which allows for total simplification and streamlining of any state mandated participation. Clients already using the program have reported satisfaction with meeting the requirements of the applicable state PDMP.
As of early 2018, the National Alliance for Model State Drug Laws reported that 37 states mandated prescriber participation in PDMPs. Despite the obvious need for exemptions from these rules for professionals practicing in hospice or end of life care, many states still expect full scale participation regardless of which sector of healthcare an individual is operating.
"PDM-Pal™ is another example of our ability to innovate and quickly answer any unique pharmacy related needs of our valued partners. We had several groups that came to us with urgent requests to help them adapt to the newly required PDMP regulations. We listened, we got to work, and a short time later, here we are with a very competent integrated solution," says Drew Mihalyo, PharmD, President and COO.
Delta Care Rx, http://www.deltacarerx.com, transforms and improves the hospice pharmacy industry through business transparency, innovation, extreme customer service, and the maintenance of vital community-pharmacy relationships. As a pharmacist owned, privately held provider, Delta Care Rx sets the industry benchmark for pharmacy benefit management, on-demand pharmacist services, and hospice tailored electronic prescribing. Additionally, Delta Care Rx offers tools and technologies to simplify essential workflow and ordering processes within hospice settings.