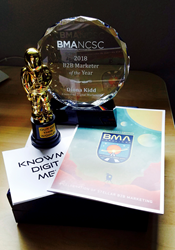 CHARLOTTE, N.C. (PRWEB) June 20, 2018
Diona Kidd, Co-Founder and Partner of Knowmad Digital Marketing (http://www.knowmad.com), was named as 2018's B2B Marketer of the Year by the Carolinas chapter of the Business Marketing Association (Carolinas BMA).
The ProAds Awards competition, hosted by the BMA Carolinas, recognizes the best in creative marketing and strategy applied to B2B marketing and is the largest of its kind in the Carolinas. Recognition is awarded by a jury of industry peers.
Diona's business approach is centered around growth, excellence and experimentation. She is currently working on a new local marketing program to help small businesses market online in a manageable and repeatable way.
The company philosophy of Knowmad Digital Marketing is "Great Work, Great Service and Great Culture." This approach enables the company to prioritize client success and retention by consistently delivering quality work and enhancing the client experience.
In addition to client work and managing her own agency's marketing, Kidd dedicates time to coach and develop team members. "It is an honor to be recognized among such a distinguished group of professionals and peers. We're excited to carry this momentum forward into the coming years," she shared.
About Knowmad Digital Marketing
Knowmad Digital Marketing is an internet marketing agency based in Charlotte, NC, that specializes in boosting online lead generation and website traffic for mid-market enterprises and local businesses. Our services include Inbound marketing, custom website design, search engine optimization (SEO), local search marketing, pay per click management and content marketing. With 15 years of experience growing businesses online, our company philosophy of great service, great work and great culture ensures quality client service and results. Learn more about Knowmad Digital Marketing at https://www.knowmad.com.
Social Media Links
Knowmad LinkedIn: https://www.linkedin.com/company/knowmad/
Diona's LinkedIn: https://www.linkedin.com/in/dionakidd/
G+: https://plus.google.com/+Knowmad
Facebook: https://www.facebook.com/knowmadclt/
Twitter: https://twitter.com/KnowmadCLT
###