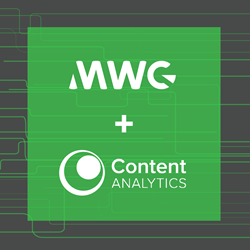 This partnership progresses our capabilities another step forward in providing accurate, timely product content updates for our Brand customers.
WINOOSKI, Vt. (PRWEB) June 15, 2018
MyWebGrocer (MWG), the leading software and digital media company to the grocery and Consumer Packaged Goods (CPG) industries, has partnered with Content Analytics to provide Brands with an easy, one-stop location to update and propagate product information across MWG's retailer eCommerce properties.
Content Analytics' platform allows Brands to manage and update products via an intuitive web portal, including a key feedback loop function called 'Compare with Live.' This feature instantly shows products on varied eCommerce sites that don't line-up with current product information and allows Brands to conveniently update and push changes across the web with a single click.
With the Content Analytics' platform, Brands are empowered to quickly change and update key consumer purchase consideration features, such as nutritional information and product size labeling. Through a connection with MWG's eCommerce platforms, brands can drive enhanced product discovery, customer satisfaction with online purchases, and ultimately, retail sales volume.
"We're thrilled to partner with MWG and offer our customers seamless distribution of their product content to MWG's broad network of retailers," says Dave Feinleib, CEO of Content Analytics. "This new partnership provides brands the ability to connect with more of their online consumers."
"This partnership progresses our capabilities another step forward in providing accurate, timely product content updates for our Brand customers. Optimized product content creates a better consumer experience and increased shopper loyalty and sales for our retailer customers," says Greg Stevens, MWG President, Advertising & Media. "We're excited to work with Content Analytics to bring new value and innovation to our collective customer base."
About MyWebGrocer
MyWebGrocer (MWG) is a leading software and digital media company connecting Retailers, Manufacturers and Consumers through its suite of modular products and services. The company's offerings span the entire digital shopper journey, from inspiration, through intent and purchase. MWG solutions are powered by data science to drive personalization, measurement and sales. For more information, visit: http://www.mywebgrocer.com
About Content Analytics
Content Analytics is the Control Center for eCommerce. Content Analytics is the world's only end-to-end eCommerce solution combining a full suite of Analytics and Reporting capabilities with a best-in-class product information management platform. The Content Analytics platform includes everything brands and retailers need to manage their eCommerce products and increase revenue. For more information, visit: https://www.contentanalyticsinc.com