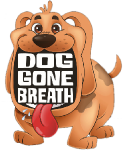 "Too many dogs deal with bad and unhealthy breath. I wanted to get involved to help solve the problem," said Fishoff.
WESTLAKE, Calif. (PRWEB) June 14, 2018
In the short time since its initial inception in 2017, and the launch of its primary product in January 2018, Dog Gone Breath has enjoyed great success and gained national recognition. The Dog Gone Breath Chewable Tablets and powder products, aimed at helping eliminate bad breath in dogs, as well as improve their health, have received numerous positive reviews from both humans and their furry friends!
Now, the company is poised to grow larger and stronger as Steven Fishoff has agreed to help grow Dog Gone Breath. As an avid dog lover, Steven wanted to find a way to help dogs live longer and healthier lives. In Dog Gone Breath, he found a company that solved a problem tens of millions of dogs face on a daily basis all throughout their lives.
Bad breath, or "doggie-tosis," is something many dog owners often put up with, without ever realizing that it could actually signal a larger health problem in their furry children.
"Too many dogs deal with bad and unhealthy breath. I wanted to get involved to help solve the problem," said Fishoff. Steven was immediately attracted to the idea of the Dog Gone Breath products because they not only serve to eliminate bad breath in dogs, but also aim to help improve dog health overall.
Made with a large number of healthy, natural ingredients, such as turmeric powder, ginger root extract, parsley powder, kelp and cinnamon, the Dog Gone Breath Chewable Tablets and powder help to reduce the risk of several ailments and maladies that dogs are often susceptible to.
It was because these products didn't just seek to cover up a problem, but also on finding a curing solution, that Steven Fishoff wanted to help with Dog Gone Breath. With the goal of promoting health and happiness in his own furry friends as well as thousands of dogs across the nation, it is a truly worthwhile cause.
Fishoff feels a great sense of fulfillment knowing that Dog Gone Breath is helping many families across America solve the problem of their dog's bad breath, as well as possibly ensuring that their furry babies are able to be part of the family for much longer due to the healthy properties of the tablets and powder. While the products don't claim to be a cure-all for doggie diseases, they are all natural and safe for dogs, and the ingredients do provide specific health benefits.
The product will also begin working right away but results may vary depending on the size of your dog and any underlying health conditions they may already have. Both products have a 100-percent, money-back guarantee if you are not satisfied with how the product works.