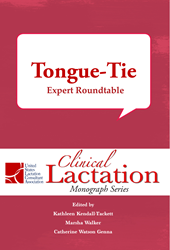 Tongue-Tie: Expert Roundtable, contains the advice of several tongue-tie experts on how to address a condition that can impact breastfeeding and child health.
AMARILLO, Texas (PRWEB) June 16, 2018
Tongue-tie has become one of the most controversial topics in lactation. Unfortunately, mothers, babies, and the IBCLCs who want to help are caught in the crossfire. How should tongue-tie be identified and treated? Do posterior ties exist? Are there alternatives to surgery? These are some of the issues lactation consultants face, as well as Scope of Practice issues and what their role should be in identifying and treating tongue-tie.
Tongue-Tie: Expert Roundtable features a roundtable of experts from the U.S., Brazil, Australia, and Spain. The panel of experts represented a wide range of disciplines including pediatrics, family medicine, dentistry, mental health, speech and language, and lactation. Members of this panel did not always agree, but the discourse represents the state of the art in this field.
Kathleen Kendall-Tackett, PhD, IBCLC, FAPA is a health psychologist and International Board Certified Lactation Consultant, and the Owner and Editor-in-Chief of Clinical Lactation. Marsha Walker, RN, IBCLC, RLC, is a registered nurse and IBCLC. She has been assisting breastfeeding families in hospital, clinic, and home settings since 1976. Marsha is the executive director of the National Alliance for Breastfeeding Advocacy: Research, Education, and Legal Branch (NABA REAL). Catherine Watson Genna, BS, IBCLC, RLC, is an International Board Certified Lactation Consultant in private practice in New York City.
Praeclarus Press is a small press founded by health psychologist, Dr. Kathleen Kendall-Tackett, focusing on women's health. The mission of Praeclarus Press is to publish books that change people's lives. Praeclarus Press is based in Amarillo, Texas.
Tongue-Tie: Expert Roundtable is available at PraeclarusPress.com or on Amazon.com.