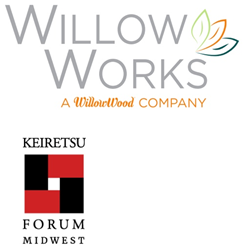 We optimistically look forward to supporting the disruptive start-ups of the Midwest
COLUMBUS, Ohio (PRWEB) June 18, 2018
WillowWorks, a leading early stage investor that provides startup capital, advisory services, and commercialization support has recently become a member of Keiretsu Forum Midwest. WillowWorks became active in the Forum to participate in the dynamic Angel investment community. As a Member in the Forum, WillowWorks will invest in innovation and entrepreneurship.
John Choi, General Manager of WillowWorks commented, "We were impressed by the community of investors and founders represented in Keiretsu Forum Midwest. After attending our first Forum meeting we knew we needed to be part of this vibrant movement. It represents the ideal balance of deal flow and investor collaboration. We optimistically look forward to supporting the disruptive start-ups of the Midwest."
Sotiris Pagdadis, President of Keiretsu Forum Midwest, commented, "I am truly honored to have WillowWorks represented in Keiretsu Forum Midwest. John Choi and his team have brought significant acumen to the Forum. They embrace our community ethos and our entrepreneur spirit. They give me strong hope in our mission to build a dynamic and collaborative start-up ecosystem across the Midwest region."
About Keiretsu Forum
Keiretsu Forum was founded in 2000 in the San Francisco Bay Area. With more than 2,800 investor members in 52 chapters on 3 continents, Keiretsu Forum is the world's largest "by invitation only" angel investor network. Keiretsu Forum membership is comprised of angel investors, venture capitalists, corporate/institutional investors and serial entrepreneurs who provide early-stage capital in the range of $250,000 - $10 million to high-quality diverse investment opportunities. Keiretsu Forum members collaborate in the due diligence but make individual investment decisions. For more information, visit http://www.keiretsuforum.com. 
About Keiretsu Forum Midwest
Keiretsu Forum Midwest is the 43rd Chapter of Keiretsu Forum. Launched in Cincinnati, Ohio, by Sotiris Pagdadis in the spring of 2016, the chapter has attracted membership from 21 cities across the Midwest. These members gather in Cincinnati, Chicago and Ann Arbor once a month as part of an entrepreneur road show. For more information about Keiretsu Forum Midwest, visit http://www.keiretsuforummidwest.com.
About WillowWorks Willow
Works is dedicated to supporting big ideas and bold start-up founders. We're entrepreneurs by nature and our team has collectively developed, refined and launched ideas across industries. WillowWorks exists so that ideas can be freely explored, proven and brought to market. https://www.willowworksco.com/
For more information, please contact:
WillowWorks info(at)willowworksco.com
SOURCE: WillowWorks, LLC