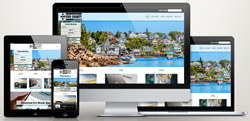 "Five County Credit Union's new website is the perfect showcase of what a clean, well thought out site should look like. This was our first website in Maine, and it was imperative that we captured the spirit of the Pine Tree State." - Eric Isham, OMNICOMMANDER Founder and CEO
BATH, Maine (PRWEB) June 15, 2018
OMNICOMMANDER, a financial technology firm specializing in website design, and social media marketing for credit unions; announced today that Five County Credit Union has successfully launched its new website, designed and hosted by OMNICOMMANDER.
OMNICOMMANDER Founder and CEO Eric Isham said, "Five County Credit Union's new website is the perfect showcase of what a clean, well thought out site should look like. This was our first website in Maine, and it was imperative that we captured the spirit of the Pine Tree State. Kelly and the team at the credit union knew exactly what they wanted going into the project, and I believe that our team delivered."
Five County Credit Union Marketing Director Kelly Ramsey said, "Searching for the right company & team to build your website can be a daunting task. We are glad we made the choice to use OMNICOMMANDER for building our new website. We couldn't be more thrilled about the look & feel, the streamlined & responsive application process, it's security, it's ADA compliant and responsive no matter what device you are working with. Our staff & members love it!"
About OMNICOMMANDER
OMNICOMMANDER is a veteran owned and operated credit union website design, social media and marketing firm. With a focus on member experience, the company ensures every touchpoint has the exact same user interface. Along with incredible design, OMNICOMMANDER creates sites with built-in mobile responsiveness, SSL encryption, while observing ADA guidelines on accessibility for disabled members.
For more information, visit OMNICOMMANDER on LinkedIn, Twitter, Facebook, and Instagram.
About Five County Credit Union
Five County Credit Union was founded by the employees of Bath Iron Works in 1956 and was then known as the "BIW Employees Federal Credit Union". Five County Credit Union now serves those who live, work, or worship in the counties of Androscoggin, Cumberland, Kennebec, Lincoln, Sagadahoc, Somerset, Waldo & Knox counties.
# # #
Contact: Melissa Thompson, 850.269.7111, melissa(at)omnicommander.com