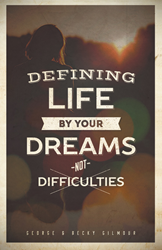 MINNEAPOLIS (PRWEB) June 18, 2018
We have the choice to either be victims of our personal tragedies, or to take life lessons from those tragedies and live an abundant, wise life. George and Becky Gilmour explain this notion in their new book, "Defining Life by Your Dreams Not Difficulties," a Christian book dedicated to helping people move past their tragedies.
The book uses scripture, the authors' own memories and the authors' stories to help people going through a difficult time. The Gilmours help readers learn to stop defining their lives by the bad things that have happened to them.
The inspiration for "Defining Life" came out of a personal tragedy the authors both experienced when their daughter was killed in a traffic accident. "We experienced a parent's worst nightmare when our daughter was taken away from us," George said. "As devastating as that was, we refused to let that define our lives. We chose not to be the victims."
Kirkus Reviews describes "Defining Life" as "a highly personal and ultimately uplifting faith manual. . . A short and intensely autobiographical debut guide combines inspirational talks and a faith memoir."
"Although we will always feel some of the pain, we have survived it with God's help and can now use it as an opportunity to help others struggling with their difficulties," Becky said.
"Defining Life by Your Dreams Not Difficulties"
By George and Becky Gilmour
ISBN: 978-1512707861 (softcover); 978-1512707878 (hardcover); 978-1512707854 (electronic)
Available at the WestBow Press Online Bookstore, Amazon and Barnes & Noble
About the authors
George and Becky Gilmour have been teaching and ministering since they were teenagers and have been partners in ministry for more than forty years. The Gilmours experienced a parent's worst nightmare in 1981 when their four-year-old daughter was killed in a traffic accident. Through this tragedy, they experienced God's overwhelming love and learned firsthand the real meaning of hope. For the past thirty years, they have been dispensing hope through their seminar, "Navigating through the Storms of Life," Drive Time Inspiration CD, and individual counseling. They currently live in Burnsville, Minnesota and have two married sons and six grandchildren. To learn more about the Gilmours, please visit http://www.defininglifeministries.com.
###