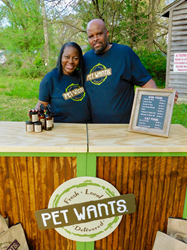 Pet Wants food is fresh, high-quality and made with specially-selected ingredients to give pets the exact nutrition they need. When you combine the products we offer with the free, personal delivery, it's easy to see how Pet Wants is different than the big box pet stores. - Steve Herring
GREENSBORO, N.C. (PRWEB) June 15, 2018
When Steve and Donya Herring rescued their dog Solomon, they found themselves navigating the confusing world of dog food and pet care. When they learned about the fresh, high-quality Pet Wants food, they decided they wanted to bring Pet Wants to the Greensboro region by opening their own Pet Wants business. Now the Herrings are pleased to announce the launch of Pet Wants of Greensboro NW.
Pet Wants' specially crafted pet food formulas are made in small batches with fresh, natural ingredients enhanced with vitamins and minerals for a complete and balanced diet in every bowl. Pet Wants of Greensboro NW offers multiple blends of dog and cat food formulas as well as healing salve, calming balm, anti-itch spray, paw wax and more. Pet Wants of Greensboro NW is currently available in Greensboro, Jamestown, Lake Jeanette, Summerfield, Lake Brandt and the surrounding areas through free, convenient, personal delivery service.
The Herrings Pet Wants journey all started when they found themselves unexpectedly rescuing their dog, Solomon.
"We weren't looking for a dog, but a family member's neighbor had Solomon and he clearly wasn't being taken care of very well. He needed us. And, honestly, from the moment he moved in, he made our lives better. When we took our family vacation to Florida and had to board Solomon while we were gone, I suddenly realized that he had become a huge part of our family. I didn't want him to stay just anywhere – and I didn't want him eating just anything. I found myself going to the big box stores trying to figure out the best food to buy and no one had any answers. My research brought me to Pet Wants," Steve said.
Pet Wants has a 100-percent, money-back guarantee on the freshness and quality of the food and the company only sources the best salmon, chicken, lamb, brown rice and other ingredients available. There's no sugar added, no fillers and no animal by-products and Pet Wants never uses corn, wheat, soy or dyes, which makes the food great for animals with allergies.
"We were able to try Pet Wants pet food with Solomon and he loved it! We knew we had found the right food for him as well as an opportunity to help other pet owners in our community. With our passion for our pet and our entrepreneurial spirit, Pet Wants felt right for us. We want to bring Pet Wants to our community, and build a legacy for our children, Atayah, Tyjan, and Jaydon. We had been looking at opportunities over the years but found nothing we loved until we came across Pet Wants. We believe it's a win-win for our family and community," Donya said.
Donya is a breast cancer survivor with Type 1 Diabetes, so she understands the importance of nutrition and a healthy lifestyle. She and Steve are hoping, by bringing Pet Wants to their community, they can help positively impact the pets throughout their region.
"Pet Wants food is fresh, high-quality and made with specially-selected ingredients to give pets the exact nutrition they need. When you combine the products we offer with the free, personal delivery, it's easy to see how Pet Wants is different than the big box pet stores," Steve said.
To learn more about Pet Wants of Greensboro NW or to place a delivery order, call (336)850-0262, email infogreensboronw@petwants.com or visit http://www.PetWantsGreensboroNW.com.
About Pet Wants: Pet Wants was started by Michele Hobbs out of love for her pets and frustration. Veterinarians were unable to help relieve her dog's painful skin allergies. After doing much research, Michele discovered the national dog food brand she trusted was not fresh, not all natural, and lacked sufficient nutrition and – when pet food sits in warehouses and store shelves for months and months – it loses even more nutritional value. She was committed to developing a better solution for all dogs and cats. Their food is exclusively crafted. It's fresh, healthy and slow-cooked with no sugar added, no fillers and no animal by-products. They source only the best salmon, chicken, lamb, brown rice, and other ingredients. Fresh ingredients make for better food… and better health for pets. And since they never use corn, wheat, soy or dyes, the common pet health problems associated with these ingredients are no longer worries. Their fresh food is conveniently delivered to the customer within weeks of production, not months. Roughly half of Pet Wants products are sold through their store and half through their convenient, home-delivery program. You can learn more at http://www.PetWants.com.