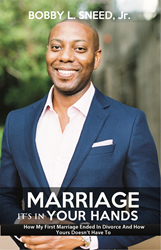 In America, there is one divorce approximately every 13 seconds. That's nearly 6,000 divorces per day.
HOUSTON (PRWEB) June 17, 2018
Expert relationship coach Bobby Sneed releases new edition book titled "Marriage It's In Your Hands" to helps couples transcend their marriage relationships to unprecedented new heights.
When Bobby was a junior in college, he met a young lady at church in Austin, Texas and they started dating shortly soon after. After he graduated from college, they decided to get married. After two years of marriage, it flamed out and they were divorced.
About three years after he was divorced, he was sitting at his kitchen table for dinner one evening, and out of nowhere, he asked God, "Why didn't our marriage last?" As he sat there alone at the table, he heard a voice that seemed to resonate from within. The voice said, "Do you really want to know why your marriage ended in divorce?" He replied, "Yes, I do." The voice then said to him, "I know you think it was mostly her fault, but let's start with you. Your marriage ended in divorce because you never became a husband to her, you were just a married man."
What if I told you getting married doesn't make a man act like a husband and a wedding ceremony doesn't make a bride act like a wife! As he thought about what he heard, he put his fork down and tears began to roll down his face. His next question was, "God, what is a husband and will you show me how to become one?" He asked God to reveal to him what biblical marriage was through His lens.
The reality is their marriage could have turned out differently had they read and applied the practical information from a book similar to "Marriage It's In Your Hands," to help them navigate through the unforeseen challenges that every married couple could and probably will face. But unfortunately for them, that book did not exist or they simply couldn't find it.
The book "Marriage It's In Your Hands" is available for download at amazon.com
Bobby knew they weren't alone and there had to be other married couples facing the same inevitable challenges in their marriages that they faced in the areas of communication, monogamy, sexual expectations, conflict resolution, forgiveness, anger, finances, pride and petty behavior.
Bobby's focus then shifted. Instead of focusing on himself, he began to focus on how he could help others avoid experiencing the defeat and heartbreak of divorce and broken relationships. He believed he could help men, like himself, who were not acting like a husband to their wife. And he knew he could help empower, encourage, and inspire current and future wives to understand the primary need of a husband, which is to feel respected. When both a husband and wife have their needs met, there is a mutual happiness and peace in a marriage.
So, with the help of the Holy Spirit Bobby wrote a book that teaches couples how to live a married life that reflects the values, principles, and truths of the Bible.
To learn more please visit http://www.marriageitsinyourhands.com
What makes "Marriage It's In Your Hands" so unique and effective is that it was divinely written from biblical research. The Bible is very practical. There are powerful life changing principles pertaining to marriage, sex, communication, love, and respect throughout the Bible that if applied will produce massive results in your marriage. There is more evidence for the Bible's authenticity than for any literature of antiquity. You can trust this marriage book will help you to achieve a healthy, exciting, prosperous marriage because the foundation from which it was derived is from a trustworthy source.
Order your copy today from amazon.com
After reading, "Marriage It's In Your Hands", you will have the confidence to know with certainty that an outstanding marriage can be more than a dream, it can be your reality. God bless you!
Bobby L. Sneed Jr. is a relationship coach and public speaker on the topic of male-female relationships. He conducts conferences and provides resources to the married, divorced, separated, dating and single. Men and women learn how to resolve conflict, dealing with the negative situations which are inevitable in every relationship. Couples also learn how to motivate each other by meeting each other's deepest needs. Even those who feel hopeless in their relationships gain practical understanding on how to handle an indifferent or unresponsive partner.
Undergraduate Education
B.S. in Business Management, Texas A&M University
Connect with him on Facebook: http://www.facebook.com/Improvingyourmarriage/
Visit our website at http://www.marriageitsinyourhands.com