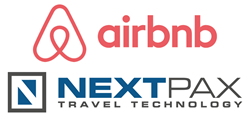 Channel manager one of the first partners to have build to room type inventory
ALMERE, Netherlands (PRWEB) June 18, 2018
Until recently, property managers were not able to list more than one unit / property per address on Airbnb due to technical limitations. Distribution of multi-unit type or category type inventory with more rooms at one address is made possible as all information from the reservation system can be pushed to Airbnb. With the new deployment, (boutique) hotels, B&Bs and holiday parks that offer 'unique guest experiences' can now be accepted on Airbnb. Their inventory, content, rates and availability are synchronized with Airbnb in a two-way connection.
The multi-unit solution NextPax developed for Airbnb not only updates rates and availability, also the room type inventory is automatically synchronized. The content API enables property managers to build and distribute their units even faster and with more accuracy. Robert van der Mast, CTO of NextPax explains: 'Currently we are one of the first channel managers able to provide a multi-unit / category type solution that synchronizes room type inventory, rates and availability between Airbnb and the reservation system. Our technology can automatically build properties from the PMS onto Airbnb maximizing efficiency and reducing time to market.'
NextPax is looking forward to the upcoming quarters in which it will be connecting significant hotel inventory to its platform in addition to its current portfolio that consists of more than 600,000 vacation rentals and specialty lodging.
About NextPax
Founded in 2006, NextPax is a leading vacation rental channel manager specialized in providing complex API-connectivity solutions that enable seamless two-way connections between property management systems and distribution channels worldwide. The extensive network of NextPax consists of 600,000+ properties and is continuously growing by connecting new professional property managers and channels to the network. The cutting edge and highly automated vacation rental distribution technology provided by NextPax, allows properties to be distributed via all major distribution channels and numerous niche channels. Connectivity includes availability, rates, inventory, bookings and content updates.
About Airbnb
Founded in 2008, Airbnb is a global travel community that offers magical end-to-end trips, including where you stay, what you do and the people you meet. Airbnb uniquely leverages technology to economically empower millions of people around the world to unlock and monetize their spaces, passions and talents to become hospitality entrepreneurs. Airbnb's accommodation marketplace offers access to millions of places to stay in more than 191 countries, from apartments and villas to castles, treehouses and B&Bs. All of this is brought together in one easy-to-use and beautifully designed website and app.