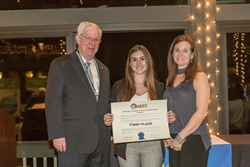 Even if I had not made it this far, it gave me a solid foundation on how to set up a financial plan...2018 Competition Winner Victoria Albanese.
Middletown, OH (PRWEB) June 19, 2018
The competition allows for extensive learning opportunities. Individual students or teams of two are sent a fictional case narrative and…
(1) Initially develop a personal financial plan following submission guidelines
(2) As a semi-finalist present the plan to a panel of financial professionals
(3) As a finalist, explain their conclusions live in front of experienced consultants.
"Education is the underlying factor in our competition," advises IARFC Chairman and CEO, H. Stephen Bailey, MRFC. "Students need to understand how to present to a real client, in the real world with a real case scenario. Developing a financial plan is the core of what we do."
The National Financial Plan Competition relies on Corporate Sponsorship and Individual Sponsorship from its members. These sponsors are very interested in giving students in financial programs a real world experience – the financial plan being a basic product for a client. The competition also provides opportunities for students to network and gain insight from successful financial services professionals. According to 2018 Finalist Professor Dr. Craig Lemoine from University of Illinois, "The investment you [sponsors] made is going to spread well beyond the two people we sent. You are building such energy in the next generation of planners by sponsoring this group."
For the students, beyond the educational and networking aspect, is the enjoyment of the entire professional venue. "It has been an irreplaceable experience," relates 2018 National Financial Plan Competition winner Victoria Albanese of Bryant University from Smithfield, RI. "Even if I hadn't made it this far, it gave me a solid foundation on how to set up a financial plan."
The IARFC is now accepting participation agreements from educators who feel this is a challenge and a worthwhile project for their students. Deadlines dates:

9/10/18 Participation Agreements and Registration Fees by
11/13/18 Plan Submission by students.
In 2019 the finalists, accompanied by their professor, will be presenting their plans in person to a panel of judges at the IARFC Annual Conference in Nashville, TN at the Gaylord Opryland Resort and Convention Center, March 21 & 22, 2019. To find out more information or register for the 2019 Competition, contact us at plancomp@iarfc.org.