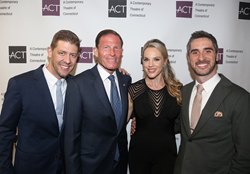 "ACT of Connecticut is adding significantly to the burgeoning number of theatrical performances in Ridgefield, offering high quality entertainment for the enjoyment and appreciation of people of all ages." - Senator Richard Blumenthal
RIDGEFIELD, Conn. (PRWEB) June 15, 2018
To celebrate the official opening of its newly-renovated theater, ACT of Connecticut (A Contemporary Theatre) hosted more than 200 guests at its Opening Night Gala on Saturday, June 9. The sold-out evening event included a cocktail hour, silent and live auction, "Mamma Mia!" performance, cast meet-and-greet and afterparty. Senator Richard Blumenthal and First Selectman Rudy Marconi attended the event, which raised $175,000 for the nonprofit theater.
"ACT of Connecticut is adding significantly to the burgeoning number of theatrical performances in Ridgefield, offering high quality entertainment for the enjoyment and appreciation of people of all ages," said Senator Blumenthal.
ACT of CT recently commemorated its inaugural season with a ribbon cutting and preview performance of smash hit musical "Mamma Mia!" on June 7. The preview showcased the production's professional talent from Broadway and New York, as well as Fairfield County. Of note, "Mamma Mia!" stars Broadway talent Juliet Lambert Pratt as "Donna," Jodi Stevens as "Tanya," Sheri Sanders as "Rosie," Michael Hunsaker as "Sam," Victor Hernandez as "Harry" and Craig Ramsay as "Bill." Pratt and Stevens are local residents from Ridgefield and Weston, respectively, and Ramsay was a member of the original production's cast, as was theater artistic director Daniel C. Levine.
Gala guests were able to meet and mingle with the theater's prestigious board of directors and artistic advisory board, as well as the show's cast. Broadway icon and Academy Award® winner Stephen Schwartz (composer of "Wicked," "Pippin" and "Godspell") was in attendance, as were Larry Morley (a technical director at Radio City Music Hall), Bryan Perri (music director of Broadway's "Wicked") and Jack Mehler (a scenic and lighting designer). The evening sponsors included Bareburger, TownVibe, Diamond Properties, Sparkle Events, Brew & Company and Vine & Company.
"ACT of CT is well on its way to becoming one of the East Coast's premier regional Equity theaters," said artistic director Daniel C. Levine. "I'm so proud of the work that we are doing here in Ridgefield to support our mission of bringing Broadway to Fairfield County."
"The support that Ridgefield and the surrounding towns have shown is remarkable," added executive director Katie Diamond. "We are so excited to continue to elevate the level of entertainment in this area and to help make Ridgefield an arts destination."
The "Mamma Mia!" performance schedule includes evening shows from Thursday-Sunday and additional matinee times on the weekend. Tickets are currently available online for the limited engagement run of the show. The final performance will take stage on Sunday, July 1. For more information about ACT of CT, ticket and annual subscription sales, education programs, sponsor/donor opportunities and other theater-related news and announcements, visit http://www.actofct.org.
###
About ACT of Connecticut (A Contemporary Theatre)
ACT of Connecticut (A Contemporary Theatre) is a nonprofit 501(c)(3), premier Equity theater located in the renowned Schlumberger auditorium in Ridgefield, CT. Founded and led by three accomplished theater professionals, the contemporary theater will present limited engagement runs of well-known Broadway plays and musicals, as well as world premiere plays and musicals by the next generation of writers and composers. The theater company is expected to produce four shows per season, each show featuring both NYC Broadway and local Fairfield and Westchester County talent. In addition to fully-produced main stage productions, ACT of CT will host youth education classes, masterclasses, camps, workshops and a conservatory program for high school students.