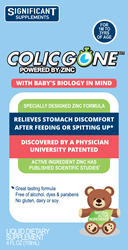 "We all have kids and know how frustrating it can be as parents to be unable to comfort our little ones. We developed Colic Gone® to help parents bring comfort to their babies until nature takes its course and things resolve on their own." - David Kolb, Founder, Colic Gone®
DAVIE, Fla. (PRWEB) June 19, 2018
At last parents have an alternative when it comes to providing fast relief for their babies with colic. Today we announce the release of Colic Gone® liquid drops, providing fast relief of infant stomach discomfort from reflux-related colic. Colic Gone® is exclusively available on the company's website (http://www.colicgone.com), has been recommended by physicians and has been purchased by parents across the United States since its soft launch earlier this year.
What specifically causes colic is still unknown but one scientific theory focuses on the still developing infant digestive system. This can allow stomach contents, including acid to come back up the esophagus (reflux) and cause irritation and discomfort, particularly when babies are still on liquid diets. This may be why this reflux-related colic has been found more frequently after feeding, spitting up and lying down. Such reflux or spitting up is quite normal and usually resolves itself by the time babies begin to sit up and eat solid foods. To provide comfort and relief from reflux-related colic the team at Significant Supplements specifically developed Colic Gone®.
Colic Gone® is a liquid supplement that was formulated based on research done at Yale University by the team of Dr. John Geibel, Vice Chairman of the Department of Surgery (Gastroenterology) at Yale University School of Medicine and Director of Surgical Research and Professor of Cellular and Molecular Physiology. Their goal was to find a more natural acid reduction solution that was both effective and safe. In 2011 they published their scientific studies in the American Journal of Gastroenterology where they discovered that certain zinc salts could lower stomach acid rapidly and effectively. Zinc, an essential mineral is required for the proper function of over 300 enzymes and has been found to be important in preventing and healing peptic ulcers (Drugs Exp Clin Res. 1989;15(2):83-9).
Interestingly, the zinc content of breastmilk has been shown to drop by approximately 50% after the first two months postpartum (Pediatrics Feb. 2015, Vol. 135, and Biological Trace Element Research Apr. 2001, Volume 80, Issue 1). This may be the reason why some babies experience colic around the age of two months, supporting the use of a zinc supplement like Colic Gone®.
Traditionally parents have had to rely on products called gripe water to find colic relief but those liquid drops have had little in the way of scientific evidence supporting their use. In 2010 the British Medical Journal (Clinical Evidence 2010 Feb 5;2010. pii: 0309) reported that "we found no direct information from RCTs [randomized control trials] about the effects of gripe water in infants with colic". Other journals went on to review the ineffectiveness of gripe water but it was the Journal of Clinical Diagnostic Research (2015 Nov;9(11):SC06-8) that reported in 2015 "gripe water administration does not seem to prevent infantile colic and on the other hand, may be associated with vomiting and constipation". Despite these scientific studies gripe water continues to be the leading colic relief product in the United States, driven primarily by its wide degree of retail availability and marketing spend.
More recently probiotics have been sold for use in providing comfort from colic, but even these products have had mixed results when it comes to clinical evidence. Small early studies in 2010 showed some promise (Pediatrics 2010;126:e526–e533) in exclusively breastfed infants but a much larger follow up study published in 2014 showed no benefits for probiotics in providing colic relief in either breastfed or formula-fed infants (BMJ 2014;348:g2107). A recent meta-analysis of these studies found a limited benefit for breastfed infants, although the original data collection methods and other study attributes limit the definitiveness of such analysis.
For more information about Colic Gone® please visit our website http://www.colicgone.com.
Significant Supplements LLC was founded with a mission to develop science-based supplements that are clinically supported with strong and relevant data. We do this in partnership with leading research scientist and physicians at some of the top research universities in the world. Our initial focus is in the areas of gastrointestinal and digestive health.