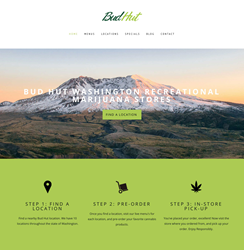 Remember: you're more than a customer to us. We'll treat you like family, providing you great service, expert advice, and the best products available in Washington State.
CAMANO ISLAND, Wash. (PRWEB) June 19, 2018
Bud Hut, the cannabis retailer serving a wide swath of Washington State with eleven locations, announces the launch of a brand-new website: https://www.budhut.net/.
In addition to its up-to-date and eye-catching design, the new site will enable customers to take advantage of Bud Hut's geographic reach with greater ease and efficiency than ever before. Simple, intuitive navigation and up-to-the-minute live menus make pre-ordering cannabis products a snap, and because so many users are now accessing websites via mobile devices, every location can be easily navigated to via clickable maps.
Local Favorites and Picks for a Richer Experience
In addition, each location's homepage offers helpful and user-friendly tips and directions from nearby thoroughfares to ensure that those visiting the region will find their destination with ease and learn a bit about what makes each community special and unique.
For instance, the Camano Island page directs visitors to the many pristine parks and natural attractions unique to northwestern Washington State, including Cama Beach and Camano Island State Parks.
Further to the southeast, the Maple Valley location offers a very different natural environment, showcasing Washington's old-growth forests of towering evergreens and history of settlements dating to the early 19th century.
Giving Customers More with Blogs, Guides and Online Ordering
Whatever the location, customers will benefit from the new website's helpful and informative blog posts on subjects ranging from which cannabis strains best spark creativity to simple recipes for cannabis lovers to local theatre and festival guides.
Bud Hut expects the launch of their new website—with its easy-to-use navigation and the convenience of pre-ordering for grab-and-go transactions—to be a major upgrade for customers already sold on its proven combination of premium cannabis offerings, fair and competitive prices, and unbeatable customer service.
About Bud Hut:
Bud Hut is a licensed recreational marijuana retailer with locations throughout Washington State. The first Bud Hut opened its doors on Camano Island in late 2014; nine other locations soon followed, with still others coming soon.
Regardless of their location in major urban centers or smaller communities, all Bud Hut recreational shops are committed to providing the best marijuana and cannabis products at fair and competitive prices. Their friendly, knowledgeable budtenders pride themselves on their highly reviewed customer service, and they're available to respond to customer inquiries seven days a week.