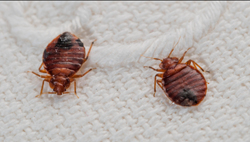 Throughout the State, we're seeing a tremendous rise is in bed bug infestations and how they disrupt the lives of our customers.
SACRAMENTO, Calif. (PRWEB) June 19, 2018
Summer is not only a prime time for vacations, but it's also peak season for bed bug infestations, according to the Pest Control Operators of California, which is urging travelers to take precautions so they don't bring home these bloodsucking insects.
"All insects, including bed bugs, thrive during summer months and especially in environments that see lots of human traffic, like hotels, hostels and rental homes," said Chris Reardon, the executive director of PCOC. "It is not uncommon for these pests to stowaway in luggage and infest homes after travel."
While bed bugs are small, they have a mean bite that can cause itchy welts and result in constant panic and sleepless nights, he said. It's also important to remember that bed bugs are equal opportunists and don't care if you're staying in a five-star hotel or an inexpensive motel.
"Throughout the State, we're seeing a tremendous rise is in bed bug infestations and how they disrupt the lives of our customers," said Reardon. "Because of this, we want to raise awareness about this issue so people don't inadvertently bring these nasty insects homes from vacations."
PCOC offers the following tips to help prevent any hitchhiking insects from coming home with you:
Inspect Your Room: As soon as you step into your hotel room, inspect the most common hiding spots for bed bugs: Mattress seams, box springs, and hidden corners are some of their favorite places to lurk.
Keep your Luggage off The Bed: With so many folds and pockets, luggage can be a hotspot for any critter to move into. Don't make their job easy for them by placing all your belongings on the bed.
Bathroom is the Best Room: Due to the hard tile and very few places to hide, the bathroom can often be the best place to keep your luggage. All of the furniture in your hotel are places bed bugs can hide, particularly if it's older. So be safe and stash your luggage in the bathroom.
Buy Luggage with a Hard-Shell Case: Luggage that isn't soft and full of tiny pockets makes it more difficult for insects to make a home out of it. Splurging for bug resistant luggage can save the worry of bed bugs coming home with you.
Pack Your Belongings in Sealable Plastic Bags: This extra precaution will help make sure the bugs don't settle in on dark clothing and inside shoes. It may seem tedious, but the effort is worth it.
Wash Everything When You Get Home: Bed Bugs can survive in temperatures above 100 degrees, so it's best to give all your clothes and washable belongings a good run through the washer and dryer as soon as you get home so they don't take up residence in your home.
"Bed bugs are sneaky and a nightmare to deal with," said Reardon. "But they don't have to ruin your vacation. So be sure to take these precautionary steps so you can enjoy your vacation and your life when you get back home."
About the Pest Control Operators of California
The Pest Control Operators of California (PCOC) is a non-profit trade association dedicated to encouraging interest and participation in the pest control Industry. The association is broadly involved in educational and training programs at both the consumer and trade industry level; it offers a wide range of educational resources, referral services, scholarships and insurance to the pest control industry.