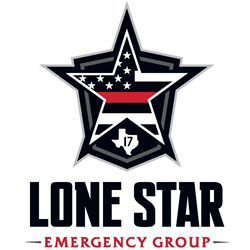 "These additions reinforce our dedication to Texas, as well as our commitment to filling the void of quality service around the state." — Brad Fullington, CEO of Lone Star Emergency Group
HOUSTON (PRWEB) June 18, 2018
Today, Lone Star Emergency Group is proud to announce that Walt Ratcliff has been named its statewide Vice President of Service Operations. Lone Star is also excited to announce the opening of its newest, state-of-the-art service center in Austin.
Walt Ratcliff, whom Fullington calls "the very best of the best in the EVT profession," worked for the City of Austin's fleet division for 23 years, supervising the city's maintenance service center which maintained vehicles for the Austin Fire Department, Austin Police Department, and Austin-Travis County Emergency Medical Services.
Walt also served as a service manager for a Pierce Manufacturing dealership for nine years, and launched and operated Southern Wrench Apparatus Technicians with his sons, serving 47 fire departments in Central Texas.
"Walt Ratcliff has set the standard in Texas by which all emergency vehicle technical centers are measured," says Fullington. "We are blessed to have him lead our service operations for the state of Texas."
Lone Star's Austin service center is the third such facility the company has opened in the last four months. Walt's son Chris has been named Service Manager of the new facility. Another son, Jeff, is joining the shop as a service technician. Walt, Chris, and Jeff bring 44 years of combined experience to Lone Star.
"This is a great day for Lone Star Emergency Group and for me personally," says Brad Fullington, CEO of Lone Star Emergency Group. "Our new Austin shop reinforces our dedication to Texas, as well as our commitment to filling the void of quality service around the state. Adding Walt and his sons is not only a testament to our commitment to provide that quality service, but also a testament to our commitment to building our company with quality people."
A Pierce Master Technician who holds numerous other certifications, Chris Ratcliff served as a road technician for a Pierce Manufacturing dealership for 8 and a half years before spending 2 years as shop foreman and road tech at Southern Wrench.
"I couldn't be more honored to have Chris Ratcliff build the foundation of our Austin-area service center," says Fullington. "Chris's hard work, commitment to customer service, and personal growth as a professional emergency vehicle technician at the highest level has earned him the right to lead and grow our team in Austin. His experience as an emergency vehicle technician, as well as his experience operating a business from the ground up, will be invaluable to Lone Star Emergency Group and our customers."
Jeff Ratcliff started Southern Wrench with Walt and Chris, serving as a technician there for two years. He brings that same expertise and commitment to quality service to his new role as a service technician at Lone Star's Austin service center.
"Jeff is cut out of the same mold has his father and brother," says Fullington. "He has the family work ethic and commitment to do quality work to serve our customers."
Fullington welcomes all current and former customers of Walt, Chris, and Jeff to call and congratulate them on joining "the most committed emergency vehicle service company in Texas." They can be reached at (512) 718-1078.
"Chris and Jeff Ratcliff are chips off the old block from their father. They were raised in a home where quality work was the expectation and not the exception," says Fullington. "Combining great people like them with a company truly committed to customer service is a win-win-win for everyone involved."
Lone Star Emergency Group is looking to add qualified and experienced service technicians to its Austin team. Interested applicants should contact Lone Star at careers(at)LoneStarEG(dot)com.
ABOUT LONE STAR EMERGENCY GROUP
Owned by former Major League Baseball All-Star Todd Helton, Lone Star Emergency Group offers a full line of Ferrara and E-One Fire Apparatus and emergency vehicles. The company also carries a complete inventory of parts and loose equipment, and provides repairs and other support via its statewide roadside service division and state-of-the-art service centers in Houston, Dallas, Lubbock, and Austin, with an additional service center scheduled to be added in San Antonio.
For more information about Lone Star Emergency group or to schedule service, visit LoneStarEG.com or call (800) 332-7402.