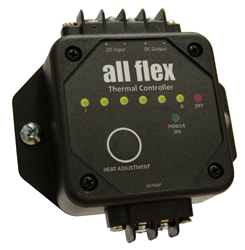 NORTHFIELD, Minn. (PRWEB) June 26, 2018
All Flex, one of the country's leading manufacturers of flexible printed circuit boards and flexible polyimide and silicone rubber heaters, has introduced an easy-to-use thermal controller for engineers, product developers, and designers who seek simple use and a plug-and-play option for their thermal package.
The company also announced that is has begun offering two models of stick-on polyimide-based sensors consisting of a RTD and a 10K thermistor.
These new offerings, coupled with its recently expanded capabilities of thermal analysis modeling using Finite Element Analysis (FEA), shows the industry that the company is positioning for a broad market presence in thermal package solutions. The company also offers permanent heat-sink mounting for customers desiring to source a preconfigured, drop-in thermal component.
All Flex's new controller, the AFTC-5000 utilizes a single-button interface providing both OEMs and end-users with the ability to easily adjust the thermal settings. The controller provides 6 temperature setting increments that are pre-programmed by All Flex per the customer's specific requirements. In addition, the controller operates using the input power to the heater and eliminates the need for its own power supply.
Greg Closser, President, states, "Over the past 5 years, our OEM customers have consistently asked us to help them solve their thermal problems and to design more than just the flexible heater for them. The additional capabilities we have developed over the past several years is specifically a result of the market demand." Closser adds, "Our new controller is a device that we believe fills a need in the lower to mid-level sophisticated thermal systems where designers need basic thermal control at a moderate price."
The controller and sensors details are available on the company's web site. In addition to traditional purchase options, both can be obtained through the company's on-line custom order "Build-A-Heater" system or through the company's shopping cart.
About All Flex
All Flex is a privately held company that manufactures quick-turn to high volume production runs of flexible circuits and flexible heaters with component assembly. All Flex products are commonly used in the medical, military, aerospace, automotive, instrumentation, and various industrial markets. All Flex is headquartered with two buildings in Northfield, MN and a third manufacturing facility 35 miles north in Bloomington, MN. The company is: AS9100C\ISO 9001 Certified, UL Recognized, ITAR/JCP Registered and is an active IPC Member