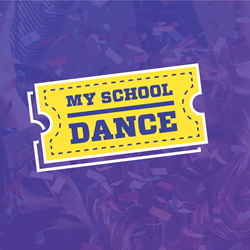 We look forward to working with more schools as they begin to plan their next dance or event in our updated platform.
AUSTIN, Texas (PRWEB) June 19, 2018
My School Dance, the online application that enables schools to plan and manage all aspects of dances and events, has announced a number of enhancements to its platform, providing greater functionality for educators and other event organizers based on their most common requests and feedback. The enhancements were officially unveiled today at the 2018 National Charter Schools Conference in Austin, Texas.
The primary focal points of the latest My School Dance enhancements are to give schools an increased ability to verify student identity, maintain reliable attendance lists, and ensure student safety during and after events. Some of the highlighted improvements include:

Eligibility List ― Schools can maintain a list of email addresses for students who do not meet the qualifications to purchase tickets for a particular event, due to a disciplinary issue or any other reason. If a member of this list attempts to purchase a ticket, the student will receive a message that he or she is ineligible.
Registration Restrictions ― Schools can require that students who register for a profile use a specific email domain―locking registrations to only the official school email system, for example―ensuring that individuals who register for an event are current students in good standing.
SIS Alignment ― Schools now have the ability to require a Student ID to be entered into individual student profiles, which will help to integrate profiles with a school's Student Information System (SIS) and verify that identities are correct.
QR Codes Integrated with Text Messaging ― A QR code will be printed on event tickets and can be scanned both when a student enters and leaves the event. This will verify attendance at events and also help to keep students safe by identifying those who leave an event early. A text message integration feature can be enabled to send a notification to parents whose child has exited an event before its conclusion.
"We are excited to introduce the latest My School Dance product enhancements to our current and future users," said Taylor Buckley, COO of My School Dance. "In the first six months since our official launch, we have heard wonderful feedback from educators and event hosts nationwide who have requested additional features to streamline registration and verification processes, giving schools an extra boost toward ensuring their events are both safe and fun for all. We look forward to working with more schools as they begin to plan their next dance or event in our updated platform."
The enhancements highlighted above represent just a sampling of all the improvements now available in My School Dance. Additional enhancements have been integrated to improve event administration and management:
Guest Administrator Agreements ― Event planners can now generate a specific permission form designed to be signed by an administrator from another school.
Promotional Ease ― My School Dance now has enhanced link sharing functionality, enabling planners to promote events by sharing registration information to social media with one click.
Videos and Article Support -- Access helpful videos and articles dedicated to supporting the dance and event management process.
My School Dance was created based on the belief that school dances are fun and managing them should be easy. This simple online platform provides a comprehensive system for handling all aspects of event planning and management. Schools and other organizations can create and customize events, manage digital permission forms, distribute tickets, and collect payments all in one location. Payments are processed by Stripe, a certified Payment Card Industry Service Provider Level 1 processor, so organizations and parents can be assured that all transactions are safe. Best of all, My School Dance is always free for schools and organizations to use.
About My School Dance:
My School Dance is an online application that manages all aspects of school dances and events. The software enables schools to avoid the most difficult elements of event-planning logistics, including the drafting, distribution, and collection of paper agreements; organization of cash or check payments; and finding volunteers to sell tickets. Schools and organizations can promote their upcoming events, sell tickets online and securely process payments, and quickly access sales and fundraising data―all in one convenient location. My School Dance is secure, easy, and always free for schools to use. Learn more at http://www.myschooldance.com.
My School Dance Contact:
Taylor Buckley, COO
taylor(at)myschooldance(dot)com
219-789-7182