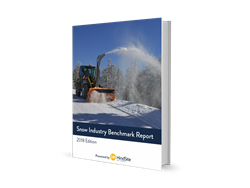 We've designed the Benchmark Report to help businesses grow and improve.
ST. PAUL, Minn. (PRWEB) June 19, 2018
HindSite Software, a leading provider of field service software to the snow industry, today released their Snow Industry Benchmark Report, which found that the typical snow business experienced more snow events in the 2017-18 snow season and, as a result, snow revenue increased.
Profits were also strong, with more than 20% of respondents experiencing margins in excess of 40% in the past snow season. Not surprisingly, those who leverage more event-based and time and material billing experienced relatively higher profit margins.
The Snow Industry Benchmark Report details the results of a two-month-long surveying effort that reflects the opinions of nearly 175 snow industry business owners and managers who provide services including snow plowing, snow shoveling, deicing and snow hauling. This is the fourth year HindSite Software has released a Snow Industry Benchmark Report.
"The Snow Industry Benchmark Report is the only report of its kind," explained HindSite's Marketing Manager, Chad Reinholz. "The typical snow industry business owner is on an island. He doesn't communicate much with other snow business owners. With 40 pages of results and analysis and more than 50 graphs, the Snow Industry Benchmark Report helps snow industry businesses understand how their peers are operating."
Among the key findings:

Just 10% of respondents saw their snow revenue decline.
Sales and marketing was cited most frequently, by 19% of respondents, as the area of their business most in need of improvement.
52% of respondents bill their customers within 2 days of a snow event.
Contract diversity is the key to maintaining revenue given the unpredictability of snow, which is why 60% of respondents use event-based pricing, and 50% use seasonal pricing.
Leveraging subcontractors is a way to meet customer commitments and limit liability, so it's not surprising that more than half of respondents of between 6 and 20 employees use subs, and more than 75% of those with more than 20 employees use them.
Shockingly, just 40% of snow businesses say they use their website to generate leads, though nearly as many - about 30% - use social media.
51% of respondents didn't attend any educational events in the past year, though 30% attended two or more. SIMA is the most popular snow association with 25% of respondents reporting that they are members.
GPS tracking devices are more popular among snow businesses than field service software, though those that do use software cite efficiency as the #1 benefit.
"In addition to data about the practices and results for a typical snow business, the report includes advice from experienced snow contractors and an extended interview with a snow removal business owner," explains Reinholz. "We've designed the Benchmark Report to help businesses grow and improve."
The Snow Industry Benchmark Report is available to download free at http://info.hindsitesoftware.com/2018-snow-industry-benchmark-report.
About HindSite Software
HindSite Software has helped snow industry contractors better manage and grow their businesses with field service management software since 2001. HindSite today sells two software solutions. The HindSite Solution is designed for field service businesses while FieldCentral is lawn maintenance software. Both solutions help businesses market, sell, schedule, route, manage their field employees and invoice. To learn more, visit http://www.hindsitesoftware.com.