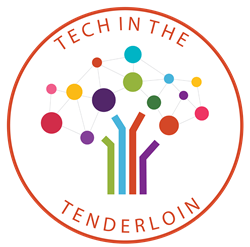 "We're excited to sponsor Tech in the Tenderloin to enhance our social impact mission locally and contribute to making technology accessible to all ages and neighborhoods," says Yennie Solheim Fuller, Niantic's Civic and Social Impact Manager
SAN FRANCISCO (PRWEB) June 20, 2018
Tech in the Tenderloin, a nonprofit focused on bringing high-opportunity technology to low-opportunity youth, announces its 2nd Annual Tech Festival. The Festival is being held at The Salvation Army's Ray and Joan Kroc Corps Community Center in the Tenderloin neighborhood of San Francisco, from 1-7 pm on June 29th, 2018. Tech in the Tenderloin is pleased to host the upcoming Tech Festival in collaboration with The Salvation Army as part of the Kroc Center's 10th Anniversary Celebration.
The Festival will bring together over 20 San Francisco Bay Area tech companies and community nonprofits for an afternoon of fun, food and festivities, with a goal to expose over 200+ youth and families to emerging technologies like AR and VR, 3D modeling, STEAM, electronic textiles and of course, carnival games!
A sampling of this year's exhibitors includes:
Niantic, Singularity University, NewPath VR, Lifeliqe, Academy of Art University, Mission Bit, WeLens, Novaby, Diginido, Bay Area Video Coalition, Today's Future Sound, Electronic Frontier Foundation, Pitch Globally, TeenTend, GoodSocial and Code Tenderloin.
The word Festival doesn't necessarily come to mind when you think about San Francisco's gritty Tenderloin district. These 49 square blocks are notoriously known for their poverty, crime and drug addiction, but the Tenderloin is also home to over 2500 children and most of these children sit on the other side of the digital divide, with little access or exposure to technology.
Tech in the Tenderloin's mission is to close this digital equity gap by providing innovative, engaging, fun programs and activities aimed at introducing middle school and high school aged youth to emerging technologies by sparking their imaginations and opening their minds to future career opportunities. The Tech Festival is a great starting point to do just that.
Yennie Solheim Fuller, Niantic's Civic and Social Impact Manager says:
"Niantic builds products that inspire outdoor exploration, exercise, and face-to-face social interaction. We're excited to sponsor Tech in the Tenderloin to enhance our social impact mission locally and contribute to making technology accessible to all ages and neighborhoods."
Co-Founders Julia Beabout and June Sargent have partnered with a forward-thinking group of technology companies and nonprofit organizations whose collective mission is to make a dent in the digital equity gap. They have big plans to expand TNT's footprint and programs in the coming year. TNT's number one goal is to offer access, which leads to opportunity.
About Tech in the Tenderloin:
Tech in the Tenderloin is a rapidly expanding, non-profit organization with a glocal focus. We are passionate about making our communities more just (and fun!) places to live and work and where the spirit of exploration, possibility and entrepreneurship thrives through amazing tech that is accessible to all. TNT was founded in the Tenderloin neighborhood of San Francisco in 2017 in response to local teen's interest, enthusiasm and need for tech opportunities. Contact us at info at techinthetenderloin dot org. Follow us on Facebook @TechintheTenderloin
About The Salvation Army:
The Salvation Army was established in London in 1865, and since 1883 has been serving the San Francisco Bay Area, offering practical support, spiritual comfort and a critical safety net to people in need. The safety net is funded in part by donations from the Red Kettle Campaign which started in San Francisco in 1891. Nearly 300,000 San Franciscans receive assistance from the Army annually through a range of social services; clothing and shelter for the homeless, food for the hungry, opportunities for underprivileged children, alcohol rehabilitation, transitional housing, nutritional and housing support for seniors and relief for disaster survivors. For every dollar donated to The Salvation Army, 82 cents is used to support those services in the 16 facilities throughout San Francisco and South San Francisco communities. For more information go to sanfrancisco dot salvationarmy dot org or follow us on Facebook and Twitter @SalvationArmySF.