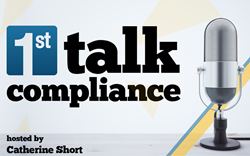 "Our guests are extremely knowledgable and happy to share information through meaningful dialogue."
WILMINGTON, Del. (PRWEB) June 20, 2018
First Healthcare Compliance announces a new radio show especially for compliance professionals in the healthcare industry. Nationally syndicated, 1st Talk Compliance covers the hottest topics related to healthcare compliance and airs on HealthcareNowRadio. Episodes air every weekday and are also available through various subscription methods.
Catherine Short, Partnership Marketing Specialist at First Healthcare Compliance hosts experts for a 30- minute informative program to cover a range of topics including OSHA, human resources compliance, and federal fraud and abuse laws. Discussions center on the pain points and learning opportunities related to healthcare compliance management in America. Ms. Short comments that "we'll never run out of material for shows because it's a broad and ever-changing field. Our guests are extremely knowledgeable and happy to share information through meaningful dialogue." The station agrees with this sentiment. "In looking for new shows to potentially syndicate on our station, we wanted an authority who could address compliance challenges beyond HIPAA." said Roberta Mullin, Station Manager of HealthcareNOW Radio. "We are excited to have First Healthcare Compliance bring various experts to the table to educate our listeners."
The show is kicking off with a wide range of subjects important to healthcare organizations. Jennifer Gimler Brady, Esq., is the guest of the initial episode for a lively discussion about employee handbooks and employment law. The current episode features Stan Szpytek, President of Fire and Life Safety, Inc. to cover steps toward emergency preparedness in healthcare facilities.
Upcoming episodes will feature:

Jill Longo, Associate Corporate Counsel for Medical Mutual of Ohio to discuss Durable Medical Equipment Compliance
Allyson Britton DiRocco, attorney at Morris James LLP, to address the ADA: Important Issues and Trends for Employers
David T. Womack, President and Chief Executive Officer of Practice Management Institute for a conversation about Continuing Education and Training in Healthcare at all Levels
About First Healthcare Compliance: Founded in 2012 by a nurse attorney, the First Healthcare Compliance software solution creates confidence among compliance professionals through education, resources, and support in the areas of HIPAA, OSHA, human resources compliance, and fraud waste and abuse laws. Serving clients across the United States, the company's evolving platform provides real-time insight for board reporting and across multiple locations. For more information please visit https://1sthcc.com/
About HealthcareNOW Radio: HealthcareNOW Radio is a live Internet radio station and podcast platform offering interviews, commentary, discussions and speeches from industry leaders in health information technology. The station currently averages over 25,000 listeners each month. Rediscover radio and listen live 24/7 atHealthcareNOWradio.airtime.pro or visit the station's companion website to learn more at HealthcareNOWradio.com. Contact HealthcareNOW Radio at: Info@HealthcareNOWradio.com