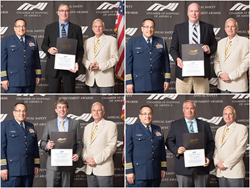 Safety is at the top of Crowley's core values and strategic goals. The vessels receiving Devlin Awards exemplify this Crowley core value, because they live it every day – for themselves, their families and Crowley.
JACKSONVILLE, Fla. (PRWEB) June 19, 2018
Eighty-two Crowley Maritime Corporation owned or managed vessels recently received the Chamber of Shipping of America (CSA)'s annual Jones F. Devlin Awards in recognition of their outstanding safety records in 2017. Each year the CSA grants Devlin Award certificates to manned merchant vessels that have operated for two or more years without incurring a lost time injury (LTI), specifically highlighting the skills and dedication of the crewmembers responsible for safe vessel operations.
Crowley's 2017 Devlin Award-worthy vessels together have achieved an impressive total of 613 years of service without an LTI representing a diverse fleet including tugboats, tankers, articulated tug barges (ATBs), container ships and military vessels. Of the 82 awarded, 24 have gone without incident for 10 or more consecutive years, including the following notable vessels: Valdez Star, 27 years, and Gus E, MV Chief, MV Guide and Roger G, each with 19 years; MV Aku, MV Veteren, MV Vigilant and Tug Nanuq, each with 18 years; and Tug Bulwark with 15 years. Crowley's vessels have earned Devlin Awards annually since 2005.
Additionally, eight ships received Citations of Merit, including Sea River Maritime Inc.'s Eagle Bay, which was renamed Washington following Crowley's April 2018 acquisition of the tanker and its sister vessels Liberty Bay and SR American Progress which were also renamed to California and Oregon respectively. Eagle Bay (Washington) was recognized for its diversion in response to a distress call where a disabled sailboat was adrift in high wind and seas. The crew provided a lee for the sailboat for three days as they slowly made their way toward the coast providing fuel and provisions as needed until a U.S. Coast Guard cutter assumed the escort.
"CSA's members are committed to safe operations and CSA's involvement in safety is longstanding with our ongoing commitment to represent the industry, domestically and internationally, on safety issues encompassing every facet of ship operations," said Kathy Metcalf, CSA president. "It is only fitting that an industry so focused on safety, publicly recognizes the skills and dedication of the women and men who have enabled these many years of safe operations and who are responsible for actions in keeping with the highest traditions of the sea – aid to those in peril."
"Safety is at the top of Crowley's core values and strategic goals. The vessels receiving Devlin Awards exemplify this Crowley core value, because they live it every day – for themselves, their families and Crowley," said Rob Grune, senior vice president and general manager, Crowley Shipping.
The following list shows all the vessels owned or managed by the Crowley family of companies that have been recognized by CSA with the 2017 Jones F. Devlin Award, along with the consecutive number of years each has operated without an LTI:
CROWLEY MARINE SERVICES 408 Yrs.
GUS E 19
MV ADMIRAL 7
MV BELAYA KUROPATKA 2
MV CHIEF 19
MV GOLIAH 9
MV GUARD 4
MV GUARDIAN 14
MV GUIDE 19
MV HUNTER 5
MV KAVIK RIVER 11
MV KUPARUK RIVER 2
MV MASTER 12
MV NACHIK 5
MV NAVIGATOR 2
MV OCEAN SKY 4
MV OCEAN SUN 4
MV OCEAN WAVE 3
MV OCEAN WIND 4
MV PROTECTOR 5
MV PT. THOMPSON 10
MV RESPONSE 12
MV SAG RIVER 2
MV SCOUT 9
MV SEA PRINCE 2
MV SESOK 2
MV SIKU 4
MV TIOGA 5
MV TOOLIK RIVER 10
MV VALOR 10
MV VETEREN 18
MV VIGILANT 18
ROGER G 19
SEA VOYAGER 10
STALWART 8
TANERLIQ 11
TUG ALERT 8
TUG ATTENTIVE 14
TUG AWARE 13
TUG BULWARK 15
TUG ENDURANCE 11
TUG GUARDSMAN 2
TUG NANUQ 18
VALDEZ STAR 27
MARINE TRANSPORT MANAGEMENT 12 Yrs.
HORIZON PACIFIC 2
HORIZON RELIANCE 2
HORIZON SPIRIT 2
ST LOUIS EXPRESS 6
CROWLEY PUERTO RICO SERVICES 31 Yrs.
MV DEFENDER 4
MV ENSIGN 4
MV MONITOR 5
MV PATRIARCH 4
TUG ADVENTURER 4
TUG RANGER 3
TUG WARRIOR 7
CROWLEY PETROLEUM SERVICES 66 Yrs.
ATB ACHIEVEMENT/650-8 6
ATB COMMITMENT/650-6 2
ATB COURAGE/650-5 9
ATB GULF RELIANCE/650-2 10
ATB INTEGRITY/650-4 2
ATB LEGACY/750-1 6
ATB LEGEND/750-2 5
ATB LIBERTY/750-3 4
ATB PACIFIC RELIANCE/650-1 5
ATB RESOLVE/650-3 3
ATB VISION/650-10 5
FLORIDA 4
PENNSYLVANIA 5
CROWLEY FUELS LLC 24 Yrs.
MV AKU 18
MV AVIK 6
CROWLEY GOVERNMENT SERVICES 43 Yrs.
CAPE WASHINGTON 8
SS CURTISS 7
USNS 1ST LT HARRY L. MARTIN 2
USNS 1ST LT JACK LUMMUS 2
USNS IMPECCABLE 15
USNS LCPL ROY M. WHEAT 7
USNS VICTORIOUS 2
CROWLEY GLOBAL SHIP MANAGEMENT 29 Yrs.
EMPIRE STATE 7
GOLDEN STATE 5
NATIONAL GLORY 5
OCEAN GRAND 2
SUNSHINE STATE 8
TEXAS 2
Jacksonville-based Crowley Holdings Inc., a holding company of the 126-year-old Crowley Maritime Corporation, is a privately held family and employee-owned company that provides marine solutions, energy and logistics services in domestic and international markets. Crowley operates under four business units: Crowley LOGISTICS, a singular ocean liner and logistics supply chain division; Crowley SHIPPING, which encompasses ownership, operations and management of vessels, including tankers, container ships, tugboats and barges; Crowley FUELS, a fuel transportation, distribution and sales division that also provides liquefied natural gas (LNG) and related services; and Crowley SOLUTIONS, which focuses on government services, including vessel management for government agencies, as well as engineering, project management, naval architecture through its subsidiary Jensen Maritime, and marine salvage and emergency response through its 50 percent ownership in Ardent Global. Additional information about Crowley, its subsidiaries and business units may be found at http://www.crowley.com.
# # #