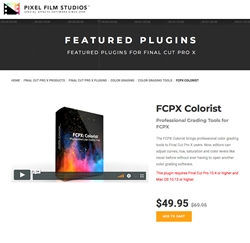 "A video editor's all-in-one tool for color grading in Final Cut Pro X is now better than ever with FCPX Colorist!"
ALISO VIEJO, Calif. (PRWEB) June 21, 2018
The FCPX Colorist brings professional color grading tools to Final Cut Pro X users. Now, editors can adjust curves, hue, saturation and color levels like never before without ever having to open another color grading software.
Each FCPX Colorist Tool installs into Final Cut Pro X as a separate filter in the Final Cut Pro X Effects library. This modular set-up allows users to stack, combine and re-arrange multiple filters on any footage to achieve endless unique looks.
FCPX Colorist introduces curve color correcting to Final Cut Pro X. The Custom Curves Tool allows users to adjust the tone and color of any image along the Red, Blue, and Green color channels. Curves can be used to color balance an image, create high-dynamic looks, control light clipping or adjust contrast.
The Primary and Balance Color tools allow users to adjust the color of an image based on exposure. The Primary Tool controls the Lift, Gamma and Gain; while the Balance Tool adjusts the Shadows, Mid-tones and Highlights.
The Hue-Hue Tool allows Final Cut Pro X users to isolate a specific color range in an image and adjust the hue of it. From skin tones to eye colors, users can use this tool to correct and grade a specific range of the color spectrum in an image.
The Hue-Saturation tool allows Final Cut Pro X users to increase or decrease the saturation for a specific color range like never before. This tool can be used to create stylized looks like the Sin City effect, in which everything is black and white except for reds.
FCPX Colorist features settings to now save custom crafted presets for future projects. No longer will users be forced to start from scratch. Color grading has once again been made easy with FCPX Colorist.
Established in 2006, Aliso Viejo, California-based Pixel Film Studios is an innovative developer of visual effects tools for the post-production and broadcast community. Their products are integrated with popular non-linear editing and compositing products from Apple FCPX. Apple, the Apple logo, Mac OS X, and Macintosh are registered trademarks of Apple Inc. in the U.S. and/or other countries. All other trademarks and trade names are the property of their respective owners.