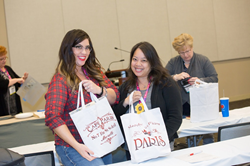 "I would absolutely recommend this (event) to any store owner," says Tanya Fox, owner of Crafty Crafters Ltd. in Camrose, Alberta, Canada.
ELMWOOD PARK, N.J. (PRWEB) June 19, 2018
Creativation, the 78th annual conference and trade show where creative professionals go to learn, connect and discover, will take place January 17-21, 2019 at the Phoenix Convention Center in beautiful Phoenix, Arizona. Presented by the Association For Creative Industries (AFCI), Creativation is the largest and longest running creative industries event featuring hands-on education, innovative product launches, trendspotting, influencer appearances, order writing and networking opportunities for thousands of creative businesses from around the world. Registration for the trade show is now open at http://www.CreativationShow.org.
"This will be Creativation's third consecutive year in Phoenix, which we've discovered is the United States' underground arts hub," says Andria Gibbon, CEM, Vice President of Education and Events for AFCI. "While the area is predominantly known for its desert and cacti, Downtown Phoenix has a ton of museums, theaters, concert halls, cultural centers, and eye-catching murals on almost every block. We're excited to partner with local businesses to provide more affordable and valuable experiences for our creative community when they visit Phoenix during the time of year when the weather is comfortable!"
Earlier this year, AFCI announced Hotels for Hope as the new official hotel booking partner for Creativation. Hotels for Hope's 600,000+ hotel partners allows the event organizer to expand the housing options to citywide booking, giving attendees and exhibitors more hotels and rates to choose from in and around Phoenix. The Phoenix Convention Center sits in the middle of a walkable downtown filled with independent restaurants, craft brewpubs and live-music venues. Creativation attendees can expect an experience defined by desert beauty, urban sophistication and year-round sunny weather.
"I would absolutely recommend this (event) to any store owner," says Tanya Fox, owner of Crafty Crafters Ltd. in Camrose, Alberta, Canada. "Not only does it help you to get ahead of the new trends but also allows you to see the product in person. As the world changes to more online ordering sometimes it is hard to truly know what it is that you are going to get. Seeing it in person helps you to get a better idea of what will work for your demographic."
Creativation is also accepting applications for exhibitors. Suppliers of paper crafts, paint, art materials, needlecrafts, sewing and textiles, home décor, woodworking, jewelry and beads, craft kits, kids crafts, edible arts and cake decorating, craft storage, other craft categories and providers of business services for small, medium and large retailers are encouraged to complete a contract at http://www.CreativationShow.org or by contacting Nadine Schwartz, Director of Sales and Sponsorships, at 201-835-1203 or nschwartz(at)afci(dot)global.
For more information and to register, visit http://www.CreativationShow.org.
ABOUT THE ASSOCIATION FOR CREATIVE INDUSTRIES
The Association For Creative Industries (AFCI) is the premier trade association for the global creative arts products industries. AFCI strives to deliver innovative high value services as we support our Members who provide products and services to educate, entertain, and inspire creative consumers. Our Members include the manufacturers, retailers, distributors, designers, educators, digital content providers, professional makers and DIYers, and other creative professionals that comprise the $36 billion+ creative arts industries in the United States alone. For more information about AFCI, membership, or its annual Creativation trade event, visit http://www.afci.global.