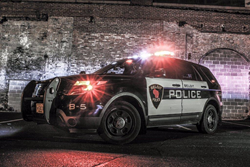 The online scheduling program is a significant improvement over our old paper schedules. -- Sgt. Bryan Hasse, Town of Beloit Police Dept.
BELOIT, Wis. (PRWEB) June 20, 2018
The City of Beloit Police Department recently began using new software that allows officers to submit time-off and shift-swap requests via smartphone, receive messages from leaders and monitor schedules from any device that connects to the internet.
Beloit PD joins the Town of Beloit Police, Town of Beloit Fire and the South Beloit Fire Department that use Aladtec's web-based software to create complicated work schedules that should help track overtime, keep track of professional certifications and streamline monthly scheduling tasks.
Each agency's schedules and member databases are secure and separate from one another.
South Beloit Fire-Rescue began using Aladtec in early 2017 at the urging of City Commissioner Tom Fitzgerald.
Initially, medics and firefighters only used the platform to clock in and out from their shifts, but when then-Assistant Chief Michael Davenport became Chief upon the retirement of Ken Morse last year, he explored Aladtec's other capabilities. Davenport now creates all the schedules for full- and part-time employees, who can view and request changes from any smartphone, tablet or desktop with internet access.
"The program is working very well," said Davenport. "One of the nice features that I really like about it, in the fire service we do a lot of trades. Anytime they go in and request a trade, whether I'm in the firehouse or I'm at home, it pings my phone for approval."
"I can check and make sure the right people are trading with the right people. Then I can approve the trade without my even being here at work. I use it every day. My guys use it every day," said Davenport.
Users can also create electronic versions of any form. Daily routines of checking the mechanical readiness of fire apparatus and ambulance supplies are quicker and records are immediately archived.
"It really simplified my job as chief when it comes to scheduling and payroll, and true documentation to give to city finance, the city commissioner," Davenport said. "I personally love the program. It makes my job easier, much easier."
The departments pay an annual subscription fee for the service but customers say the subscription quickly pays for itself with the labor savings.
The New Ulm (MN) Police Dept. began using Aladtec in mid-2017. Commander Dave Borchert estimates the time he saved on scheduling chores alone paid the yearly cost in about seven weeks.
At Town of Beloit Police Dept., Sgt. Bryan Hasse and co-workers have been using Aladtec for about a year.
"Our department has experienced a significant improvement in time management and overall awareness as it pertains to employee schedules," Hasse said in an e-mail exchange. "The online scheduling program has allowed our officers and command staff to have a better understanding of our staffing needs and department activities.
"The program allows officers and command staff to see the schedule, request time off, sign up for open shifts, approve time off, and approve shift sign-ups while at work, at home, or on the go thanks to access to the schedule via a computer or smartphone," Hasse wrote. "The online scheduling program is a significant improvement over our old paper schedules."
The Town of Beloit Fire Department has been using the software for nearly ten years, scheduling round the clock coverage at its two stations.
Other nearby agencies which use Aladtec include Orfordville and Edgerton Fire, and Footville Fire & EMS, in Wisconsin. Also Rockton, Harlem Roscoe, North Boone and Pecatonica Fire in Illinois, along with Air Methods Air Ambulance, at Rockford.
The web-based software, which originated in River Falls, Wis., has about 2,100 users across the U.S. and Canada.
The firm started when it wrote a simple program for a rural ambulance service to automate the complex process of assembling schedules amid many variables of volunteer availability, 24/7 staffing, personal wants, and bargaining unit rules.
To learn more about the program, visit http://www.aladtec.com.