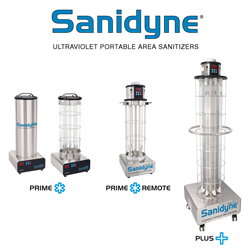 "...it's an economical plus as HAI's [healthcare-associated infections] are a battle faced, and UV-C is well established as a successful means of mitigating risks."
HAUPPAUGE, N.Y. (PRWEB) June 20, 2018
The Sanidyne® Ultraviolet Portable Area Sanitizer line by Atlantic Ultraviolet Corporation (AUV) has expanded and now includes three models to choose from: PRIME, PRIME REMOTE and PLUS. Engineers designed the Sanidyne® Prime, Sanidyne® Prime Remote and the Sanidyne® Plus with easy portability features and enhanced safety options. Those looking for a portable ultraviolet disinfection system can now select a Sanidyne® model that directly meets the disinfection and economical needs of their facility.
The Sanidyne® Ultraviolet Portable Area Sanitizers are manufactured in the USA utilizing USA made Ster-L-Ray® brand germicidal ultraviolet lamps (also known as UV-C lamps) to purify room air and exposed surfaces. UV-C is lethal to infectious microorganisms such as bacteria including but not limited to influenza, pneumonia, staphylococcus (MRSA), streptococcus (strep), coxsackie, hepatitis, and tuberculosis (TB) plus mold and virus (https://ultraviolet.com/microorganisms-deactivated/).
Sanidyne® units are fast and powerful. There is no professional installation or chemicals needed with any of the Sanidyne® lines, which makes them a highly economical disinfection system.
New features found in the Sanidyne® Prime Remote and Plus expansion provide users added safety assurances with new occupancy sensors, and remote operation, plus easier portability with built-in handle and wheels. UV Application Specialists perform the calculation necessary to ensure each system will provide just the right dose for the space, and engineering design staff will work with clients on the details that will make the Sanidyne® model the right fit for each application.
Facilities that benefit from the portable UV disinfection of the new Sanidyne® Prime, Prime Remote and Plus include:

Laboratories and Clean Rooms
Businesses and Offices
Gymnasiums
Theaters
Classrooms and Dorms
Doctor's Offices
Hospitals
Patient Rooms
Burn Centers
Operating Rooms
Intensive Care Units (ICU's)
Tuberculosis (TB) Clinics
Ambulances and Medical Transport
Morgues
Methadone Clinics
Homeless Shelters
Detention Centers
Kennels
Mobile Dog Grooming Vehicles
Dairy Plants
Locker Rooms
Hotel Public Spaces and Guest Rooms
Ann Wysocki, COO of Atlantic Ultraviolet remarks that portability of the Sanidyne® is what makes it perfect for various sized facilities and mobile operations. She states "Installation of permanent UV-C fixtures is not always best for every space in a facility. Having fixtures that are portable and can disinfect makes a lot of sense, it's an economical plus as HAI's [healthcare-associated infections] are a battle faced, and UV-C is well established as a successful means of mitigating risks. We have always been a hands-on Company ensuring our clients select a fixture that is appropriate for the disinfection of their space, whether it be in a hospital, an office, a classroom or even a kennel. We took note of some of the benefits that clients wanted in a portable unit. We determined it was time to expand the Sanidyne® line to incorporate new features addressing these customer needs."
About Atlantic Ultraviolet Corporation (AUV)
Manufacturers / Engineers / Sales / Service - Germicidal Ultraviolet Equipment & Lamps
In 1963, Atlantic Ultraviolet Corporation began engineering and manufacturing ultraviolet water purification equipment, ultraviolet air sanitization and surface disinfection systems, and germicidal UV lamps for residential, commercial, and industrial applications. They continue to engineer and manufacture their products in the USA.
Germicidal ultraviolet lamps used in Atlantic Ultraviolet's products produce short wave radiation that is lethal to bacteria, virus, and other microorganisms. Well established as a method of choice, ultraviolet technology is effective, economical, safe, quick, and easy to use due to its by-product free process. The method is unique without the use heat or chemicals.
For more information about Atlantic Ultraviolet Corporation, or how UV disinfection works, visit the official company website at Ultraviolet.com , or shop the complete product lines at BuyUltraviolet.com or call 1-631-273-0500.- - -