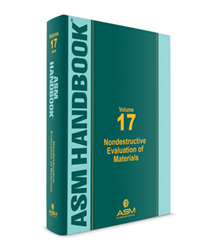 In the last 10 years the science base for NDE has become more quantitative to better detect, locate, type, and size defects, improve the reliability of inspection, and add measures of people and equipment performance with probability of detection (POD)
(PRWEB) June 20, 2018
Nondestructive evaluation (NDE) is an area of science and technology that is increasingly important to the field of engineering. NDE is an interdisciplinary endeavor that brings together the expertise of materials science and metrology, along with the underlying physics for inspection methods, as well as statistics, computers, robotics, and software. The adoption of advanced manufacturing requires new metrology tools and methods to provide data for assessing new materials including powder metals (as used in additive manufacturing) and various composites.
ASM Handbook, Volume 17: Nondestructive Evaluation of Materials helps readers select, use, and interpret methods used to nondestructively test and analyze engineered products and assemblies. Digital technology is transforming the implementation of nondestructive evaluation and is covered extensively.
This Volume covers new approaches to nondestructive testing to give new insights and provide the data needed to solve many real-world NDE problems, to understand and measure early degradation and to give the required data for remaining safe life or prognostic prediction. Modeling and real-time digital technology, along with computed tomography provide a guide for improved and safer products. Leonard J. Bond, Director of the Center for Nondestructive Evaluation at Iowa State University, and Aquil Ahmad, retired from Eaton Corp, have gathered an international group of leading innovators, researchers, and practitioners of nondestructive evaluation to create an invaluable reference.
"In the last 10 years the science base for NDE has become more quantitative to better detect, locate, type, and size defects, improve the reliability of inspection, and add measures of people and equipment performance with probability of detection (POD)," stated Bond.
ASM Handbook, Volume 17 is organized in seven divisions: an introduction to NDE, visual examination and optical inspection, thermal methods, sonic and ultrasonic techniques, radiography electromagnetic inspection, and then articles which address selected applications of NDE to manufactured products.
ASM Handbook, Volume 17: Nondestructive Evaluation of Materials ($297.00, $225.00 ASM Members, 700 pages, hardcover ISBN: 978-1-62708-152-8, eBook EISBN: 978-1-62708-153-5) is available at http://www.asminternational.org/hbvol17 or by calling the ASM International Service Center at 800.336.5152.
ASM International is the world's leading professional organization for materials scientists, engineers, and technicians. ASM delivers professional development and improved materials performance for over 25,000 individual members, and over 7,000 corporations served by ASM members worldwide. ASM engages and connects members to a global network of peers and provides trusted materials information through reference content, education courses, international conferences, and applied research.