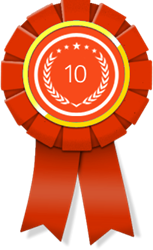 CHICAGO (PRWEB) June 19, 2018
10 Best SEO has just announced the most recent winners of its June 2018 award for Best SEO agency. Straight North, Ignite Visibility and Boostability are the top three winners for this month.
To be honored in this category, an agency must have a proven track record of helping clients improve visibility in Google and other major search engines. Excellence in search engine optimization also encompasses the field of marketing, and these award-winning agencies are specialists at helping online marketers increase their conversions and sales.
Straight North is a top SEO firm that has generated more than 800,000 leads for its clients. Straight North, which claimed the No. 1 spot on this month's winner's list, is based in Chicago and has been in business for many years. The agency employs individuals with many years of experience in SEO. All methods used by this agency are designed to produce lasting results.
Leading SEO agency Ignite Visibility ranked second on the June list of award winners. The CEO of this firm, John Lincoln, has been recognized as one of the top search marketers in the industry. Ignite Visibility places an emphasis on search engine marketing. The agency's goal is to help clients reach more potential customers with a number of proven SEO strategies. The methods used by this agency are ethical in nature and comply with best SEO practices.
Boostability has long been regarded as one of the best SEO agencies in the United States. The agency, which took the No. 3 position on the list of winners, offers all new clients a free consultation to address their SEO needs. Boostability is skilled at performing SEO audits which reveal areas in which websites can be improved. The agency does keyword research, linking, and content marketing in addition to a large number of other services. Ongoing service is also offered to clients who wish to maintain their improved search engine ranking.
This new monthly award from 10 Best SEO was created to recognize agencies that consistently produce outstanding results in the field of search engine optimization. All agencies that are considered for a Top SEO Agency award must satisfy stringent requirements. Among the factors considered is a firm's overall success rate at improving a client's Google ranking.
For more information about the best SEO firms for June, visit http://www.10bestseo.com.