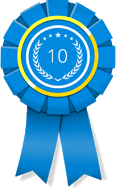 NEW YORK (PRWEB) June 19, 2018
10 Best Design is honored to present the winners of its Best Web Design Firm awards for June 2018, selecting Ruckus Marketing as the leader in this category.
The Internet is constantly growing each and every day. As more people use the Internet, more digital marketing, web design, and other web-based, web-focused businesses find themselves in business. With so many businesses being founded in the field of web services on a regular basis, people and businesses alike find it difficult to discern which such businesses are the cream of the crop over their not-so-great counterparts.
Fortunately, one firm—10 Best Design—strives to bring the World Wide Web and its billions of individual and business users its take on who the best providers are. Every month, 10 Best Design publishes a list that contains what its professionals think are the best website design firms across the Internet. The following three firms were 10 Best Design's top picks for what it believes are the Internet's leading competitors for the title of the best website design firm for June 2018.
Ruckus Marketing of New York, N.Y., came in first place for June 2018. Although Ruckus Marketing has only been in existence for ten years, a decade is a long time to have been in the digital marketing and web design business. While any digital marketing agency can churn out digital marketing content, very few fine-tune their messages and media before they hit the web. As a top web design firm, Ruckus Marketing uses this approach every single time it provides its hundreds of clients and customers with its top-notch services.
Blue Fountain Media, also of New York City, earned the silver trophy from 10 Best Design for June 2018's list of what it considers to be the very best web design firms across the country. Blue Fountain Media has a 98% customer satisfaction rating, as does Ruckus Marketing. The two firms are often in a head-to-head race against one another for the title of what 10 Best Design considers to be the best website design business across the World Wide Web.
SPINX Digital, a leading website design firm from Los Angeles, Calif., earned the third-place listing on June 2018's rendition of what 10 Best Design thinks are the best website design firms out there. SPINX Digital regularly deals with some of the biggest businesses across California.
To learn more about the award winners for June, visit http://www.10bestdesign.com.