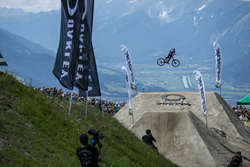 It's really tough to race. I'm really happy to have that result because the start of the season has been pretty tough and not what I wanted so to come here and get the win against a stacked field makes the next few weeks a little easier - Danny Hart
(PRWEB) June 18, 2018
Monster Energy's Danny Hart (GBR) took home the win this week at the Crankworx Innsbruck Downhill while Sam Reynolds (GBR) took second in the Dual Speed and Style event. Monster Army's Charlie Harrison scored his first real Elite podium, taking home the bronze and joining Hart up on the box at the downhill event.
The downhill in Innsbruck is technical, loose and steep, and is a favorite amongst the athletes competing at the top level of the sport. Storms earlier in the week helped to keep the dust down, but the track dried out in time for training to get underway and by race day, the roots and ruts had come out and turned the race course into a three minute beast of a run.
Hart was elated to defend his Crankworx downhill win.
"It's good," said Hart. "I wasn't really feeling it to be honest, but I think I remember it being the same last year. It's really tough to race. I'm really happy to have that result because the start of the season has been pretty tough and not what I wanted so to come here and get the win against a stacked field makes the next few weeks a little easier. This track is really good; I think they did a great job. Congratulations to them for putting on a great race. "
American Harrison took home his first "real" elite podium against the stacked field here in Innsbruck and was a bit at a loss for words.
"My first ever podium at Crankworx and my first ever real elite podium so I'm pretty hyped – especially racing such fast guys here on such a tight track, I'm super stoked, said Harrison. It's starting to set in. It's been an awesome week here after a World Cup and everyone is a bit more relaxed and just riding together. I'm heading home tomorrow for 10 days or so to do some surfing and training and come back for Val Di Sole nice and fresh."
The Dual Speed and Style event features a mix of racers and freestyle riders and consists of a racetrack that features two large trick jumps. Riders score time bonuses for their tricks, and it can make all the difference once you hit the finish line. Reynolds made a return to the event this year after a podium last year and moved up one step, into second place.
Hart and Reynolds both also competed in the Alpine Whip Off event showcasing their ability to get sideways among the towering Austrian Alps.
Download photos for editorial use.
The next event on most riders schedule is in Les Gets, France for the next stop of the Crankworx World Tour June 20-24.
For more on Hart, Harrison, Reynolds and the rest of the Monster Energy team visit monsterenergy.com and make sure to follow Monster Energy's Facebook, Instagram & Twitter for exclusive updates.
###
About Monster Energy: Based in Corona, California, Monster Energy is the leading marketer and distributor of energy drinks and alternative beverages. Refusing to acknowledge the traditional, Monster Energy supports the scene and sport. Whether motocross, off-road, NASCAR, MMA, BMX, surf, snowboard, ski, skateboard, or the rock and roll lifestyle, Monster Energy is a brand that believes in authenticity and the core of what its sports, athletes and musicians represent. More than a drink, it's the way of life lived by athletes, sports, bands, believers and fans. See more about Monster Energy including all of its drinks at http://www.monsterenergy.com.