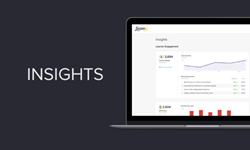 "Insights is an exciting addition to Lessonly...Better data means better decisions, and better decisions help the entire team do better work."—Max Yoder, Lessonly CEO & Co-founder
INDIANAPOLIS (PRWEB) June 19, 2018
Lessonly, the leader in online training software, today released Insights—a new dashboard that makes training data more accessible and useful to companies across the globe.
"Insights is an exciting addition to Lessonly," said CEO Max Yoder. "It will help our customers get better data about their people and their training programs. Better data means better decisions, and better decisions help the entire team do better work."
The Insights dashboard offers more than 15 ways to measure learner engagement and satisfaction—including most viewed lessons, high-performing learners, lesson ratings, and more. These metrics allow leaders and trainers to accurately take the pulse of their training program. Insights also enables teams to:

Visualize training with clear metrics. Leaders can easily understand the health of their business training program with easy-to-use analytics and charts.
Find areas for improvement. Admins can discover which lessons, employees, and teams are thriving, and which are underperforming.
Make informed decisions. Trainers can apply insights from top-rated lessons to continuously improve training.
The Insights feature will be available in all Lessonly accounts excluding the Basic package. More details can be found at Lessonly.com/insights.
Insights is the latest in a stream of recent additions to the Lessonly platform. Just last month, the company launched a new product, Practice, designed to help sales and customer service reps hone their skills and get feedback from their managers. As part of the rapid growth of the platform, Lessonly continues to add team members—particularly in Sales and Product & Engineering. Visit the company website to see available positions.
About Lessonly
Lessonly is powerfully simple training software used by over 1.5 million learners at more than 500 companies to translate important work knowledge into lessons that accelerate productivity. Customer service teams across the world use Lessonly to serve customers faster, drive consistent support, and elevate the customer experience. Sales teams use Lessonly to reinforce best practices, accelerate rep performance, and close more deals. Learn more at Lessonly.com.