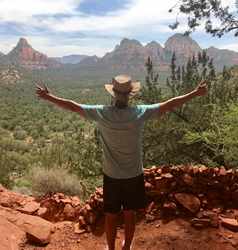 Live the Vibrant Life you dream of!
SEDONA, Ariz. (PRWEB) June 19, 2018
The Empowerment and Awakening Weekend, facilitated by Anahata Ananda, will take place October 11-14, 2018 in Sedona, Arizona and is now open for registrations. The multi-day class is sponsored by Shamangelic Healing, Sedona's premier center for Shamanic healing and spiritual awakening.
"This powerful course sells out every time. There is no better classroom than Sedona and its world-renowned healing properties, soulful wisdom, and sacred beauty to explore consciousness, healing and awakening," says Anahata, founder of the Shamangelic Healing Center.
The Empowerment and Awakening Intensive features a highly interactive weekend of introspection, exploration, personal transformation and healing among the breathtaking views of Sedona's majestic red rocks. Participants will be immersed the powerful vortex energy of the area while learning how to navigate healthy, conscious relationships, formulate clear boundaries, practice meditation techniques, explore vibrant nutrition, quantum manifestation, balance physical energy and more. Some of these courses are offered online for those who are unable to attend in person.
In an intimate setting, Anahata, Shamanic Healer and Soul Guide, will facilitate a deep inward journey to explore and share concepts of chakra balancing, spiritual awakening, healing tools, sacred ceremonies, Shamanic teachings, Shamanic Breathwork, and a deep connection to nature. The course includes a workbook filled with techniques that will be practiced in the classroom to fully prepare attendees to integrate them once the weekend experience concludes.
The retreat also offers the opportunity for personal release and rejuvenation through a classroom style setting with like-minded people. "We are all here to support each other throughout this journey together," Anahata points out. The Shamanic healer will be available for personalized sessions before and after the weekend, for an additional fee.
"Whatever it is in your life that feels upside down, you can turn things around and feel alive and happy again," assures Anahata. In this fun, supportive environment, interactive learning and healing occurs simultaneously throughout the weekend. Empowering each person who attends is the ultimate goal. Those seeking to learn how to live the life they've dreamed of and those looking to expand their toolbox of empowering healing techniques are highly encouraged to come. "I have passionately guided thousands of individuals on inward, soulful, transformational journeys that empower them to release their fears, heal deep wounds, open their hearts and reclaim their power," says Anahata.
Born from Anahata's two decades of healing, training and client success stories, the Empowerment and Awakening Weekend was developed as a way to share the tools and roadmap to a thriving, inspired life. It will be held in Uptown Sedona, overlooking the iconic Snoopy Rock and surrounding beauty of the area. Currently, the course is over half full and with limited space, and those interested are encouraged to register soon.
Anahata Ananda has trained extensively with gifted shamans, energy healers and spiritual teachers from around the world to artfully integrate the fields of spirituality, energy healing, self-empowerment and shamanic teachings. Her client-base spans the globe with individuals from all walks of life who are seeking to heal and awaken to their fullest potential.
For those unable to attend the weekend intensive, Anahata offers a variety of Shamangelic Healing services year-round, including private sessions, sacred land journeys and training courses that incorporate Shamanic teachings and other energy healing modalities. She also offers Tailored Retreats for individuals, couples and small groups that can include a combination of private healing sessions, sacred land journeys and other offerings based on various needs and areas of interest.
Shamangelic Healing is a premier center for Shamanic healing and spiritual awakening in Sedona. It is nestled beneath Thunder Mountain with breathtaking views and within walking distance to a medicine wheel and healing vortexes, making it the perfect setting for healing and expansion.
For detailed descriptions and a calendar of all training courses and spiritual awakening services offered by Anahata visit http://www.shamangelichealing.com/