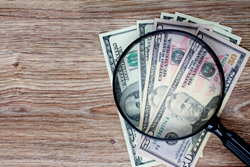 WILMINGTON, Del. (PRWEB) June 20, 2018
Many people across the United States are surprised to learn that they are entitled to money they were unaware of. That money, which is often referred to as "abandoned money" accumulates over the years, and as of 2018, there are $60 billion of such funds that remain unclaimed.
GoLookUp's advanced and nationwide Unclaimed Money allows residents all across the country to find money that is rightfully theirs when the average is $900 per person.
What is Lost Money and How to Find it
Lost money, also known as unclaimed money, is money that people leave behind in different financial agencies and accounts, such as savings bonds, tax refunds, pensions, life insurance, savings bonds (US alone), life insurance, uncashed paychecks etc. When the people who have unclaimed money under their name make changes, such as moving between states, switching banks, changing jobs and any other major change, they often leave behind money that is forgotten over time.
In order to claim back the money that a person is entitled to, he or she must search for public records in the states they resided in and locate the establishment that holds the money. Searching for financial public records in different states is time consuming and often impossible, but with GoLookUp's (click here for website) nationwide unclaimed money nationwide, users can find all they money they left behind within minutes.
The simple search is performed after users enter their first name, last name and the name of state in question into the directory. After providing these details, GoLookUp's advanced search engine scans billions of public records and provides information about lost money within minutes. The directory also allows users to find unclaimed money that belongs to their relatives (living or deceased) and claim it back. If the exact details of the relatives are unknown, GoLookUp users can perform a people search, a free background check (click here for more information), a reverse phone search, a reverse address search and other queries that are available on the website, along with other services, like a sex offender list and conviction search.
With tens of billions of dollars being held in different agencies across the country, most people are owed money that they are often unaware of. GoLookUp's advanced lost money search helps users find the money they are entitled to within minutes so that they can claim it back at any time.