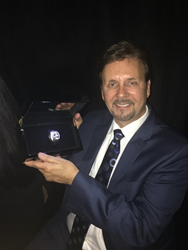 It's an incredible honor to be a part of such a special moment in Eagles history
ATLANTA (PRWEB) June 20, 2018
This February, Atlanta physician Dr. Michael Hatrak was privileged to serve as a biomechanical specialist and injury consultant for the Philadelphia Eagles during Super Bowl LII. On June 14th, 2018, his dedication and excellence was recognized at a ring ceremony where he received a Super Bowl ring alongside the team and other key personnel. "The Eagles are a great team to work with," says Dr. Hatrak, "and it's an incredible honor to help them win their first Super Bowl."
Dr. Hatrak and his colleague Dr. Andrew Potter worked with the team during Super Bowl week as biomechanical specialists and injury consultants. The game was a tightknit, back-and-forth affair decided by a Brandon Graham strip sack of Patriots quarterback Tom Brady that occurred late in the fourth quarter. "As a lifelong Eagles fan, it meant a tremendous amount to be able to witness the Eagles claim their first Super Bowl title and their first league championship since 1960," said Dr. Hatrak. "It's an incredible honor to be a part of such a special moment in Eagles history."
At Synergy Sports Wellness Institute™ and Synergy Release Sports, a team of certified chiropractors and massage therapists help patients of all ages and activity levels by relieving pain after injuries and enhancing their overall athletic performance. Dr. Hatrak's technique is a multi-step process that begins by using the most advanced diagnostic technology to look beyond the superficial symptoms of an injury and diagnose the underlying biomechanical causes. Dr. Hatrak then develops a treatment plan that is customized to each patient's individual needs. The Synergy-trained specialists employ a variety of advanced therapeutic techniques, including hyperbaric therapy, kinesiology taping, frequency specific microcurrent therapy, and the Advanced Muscle Integration Technique. The certified Synergy therapists follow up with rehabilitative soft tissue techniques to promote healing and long-term improvement. The team Synergy Sports Wellness Institute™ and Synergy Release Sports does more than just treat the symptoms of an injury or mask the pain with drugs. They work directly on the specific source or cause of a patient's discomfort and correct the underlying issues to provide real, long-term relief.
Dr. Hatrak has a long history of working with professional athletes as well as people from all walks of life. At the Atlanta and Alpharetta locations of his practice, he and his exceptional team put their expertise to work for our local athletes along with other Atlanta residents who want to reduce long-term pain or repair injuries. Prospective patients can learn more about their therapies and treatment approach at synergysportswellness.com where they can also request a consultation.
ABOUT SYNERGY SPORTS WELLNESS INSTITUTE™
Synergy Sports Wellness Institute™ and Synergy Release Sports are chiropractic and sports wellness clinics that are constantly advancing in innovative pain relief, injury prevention, and optimized athletic performance. The esteemed Dr. Michael Hatrak founded the practices to treat a wide range of patients, from healthy lifestyle seekers and weekend warriors to some of the world's most elite athletes, including over 2,500 professional athletes and Olympians. They focus on three distinct areas: reducing pain, preventing injury, and maximizing athletic performance. Synergy Sports Wellness Institute™ and Synergy Release Sports offer a variety of specialized treatments and therapies, combining and customizing them for each patient designed to minimize injury risk and aid in healing and rehabilitation.