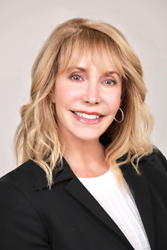 PALM SPRINGS, Calif. (PRWEB) June 19, 2018
Haute Residence welcomes Deirdre Coit to its network of top real estate professionals. As a Haute Residence member, Coit exclusively represents the high-end real estate market of greater Palm Springs, California.
In the real estate industry for nearly three decades, Coit leads Deirdre Coit and Associates, which currently comprises four buyers' agents, a client coordinator and a transaction coordinator. In 2017, Coit's team did $30 million in revenue. This year her team is on track to double its business.
Coit's integrity, honesty and work ethic have led to business relationships with CEOs of Fortune 500 Companies, as well as with wealthy Europeans looking for private and secure places for winter homes in the sun.
Among the most recognizable names in greater Palm Springs' real estate, Coit started her real estate career at the Vintage Club in the mid-1980s. It was there that she became familiar with multi-million-dollar homes and the clients who bought them. At that time, the Vintage Club was one of the very few places in the Desert where homes sold for in excess of $5,000,000.
In 1991, Coit formed the real estate firm Canavan Coit, Inc with partner Susan Canavan, who had also worked at the Vintage Club. Canavan Coit was a boutique real estate office located on El Paseo, in Palm Desert, adjacent to luxury shopping and fabulous dining. Coit merged Canavan Coit with Fred Sands, which was later sold to Coldwell Banker Residential Brokerage. Year after year, Coit was responsible for selling the Desert's highest priced homes in golf developments such as the Vintage Club, Bighorn Golf Club and The Reserve.
Coit, and physician husband Alan reside in the equestrian area of Rancho Mirage, known as Clancy Lane. Both of their grown children, Rachel and Justin, attended USC.
She is a past board member of the Desert Aids Project and the ABC Club in Indio.
About Haute Residence:
Designed as a partnership-driven luxury real estate portal, Haute Residence connects its affluent readers with top real estate professionals, while offering the latest in real estate news, showcasing the world's most extraordinary residences on the market and sharing expert advice from its knowledgeable and experienced real estate partners.
The invitation-only luxury real estate network, which partners with just one agent in every market, unites a distinguished collective of leading real estate agents and brokers and highlights the most extravagant properties in leading markets around the globe for affluent buyers, sellers, and real estate enthusiasts.
HauteResidence.com has grown to be the number one news source for million-dollar listings, high-end residential developments, celebrity real estate, and more.
Access all of this information and more by visiting: http://www.hauteresidence.com