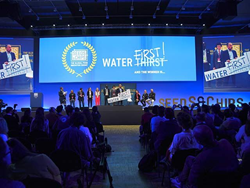 Utilis was selected for its innovative, efficient and economical system that detects drinking water leaks from pipes using satellite imagery.
SAN DIEGO (PRWEB) June 20, 2018
Utilis has been chosen as top entry out of 65 projects from 23 different countries in the WaterFirst! Initiative, winning the 10,000 euro prize and recognition at Seeds&Chips, The Global Food Innovation Summit in MiCo, Milano Congressi. Seeds and Chips was presented in collaboration with the National Research Council (CNR), The Italian Institute of Technology (IIT), and UNIDO ITPO Italy (the Italian Investment and Technology Promotion Offices, part of the United Nations Organization for Industrial Development). The international competition was launched to identify the most innovative technology and ideas to solve the problem of sustainable water management, the most urgent challenge confronting the world.
"Utilis is so very pleased to be honored with this award, and for it to it to be in Italy, where we have provided services for twenty utility customers already, makes it even more special," said Elly Perets, CEO of Utilis after hearing of the outcome.
Utilis was previously chosen as one of five finalists who received travel and accommodation costs to facilitate their participation in the Summit by a jury composed of experts and scientific advisors to the Summit from IIT, CNR, and UNIDO ITPO Italy. The overall winner was announced on May 9 at the 2018 Global Food Innovation Summit. Utilis was selected for its innovative, efficient and economical system that detects drinking water leaks from pipes using satellite imagery.
"It is immensely satisfying to receive such a large and diverse pool of candidates for this competition," said Marco Gualtieri, founder and Chairman of Seeds&Chips. "This is a clear signal not only of the level of attention to water on a global level, but more importantly of the profound commitment to meet this challenge with innovative and sustainable solutions. We are proud to award the best project and include them in our ecosystem so that they can effectively contribute to the achievement of the Sustainable Development Goals."
Along with the cash prize, Utilis received a special award dedicated to and named for Ambassador Giorgio Giacomelli. Giacomelli, a Milanese diplomat who passed away in 2017, devoted his illustrious career to the conservation and management of water resources. In 2006, he was named an honorary member of the UN Advisory Board on Water and Sanitation by then Secretary-General of the United Nations, Kofi Annan.
ABOUT UTILIS CORP.
Utilis is the only patented technology using satellite microwave technology to penetrate soil in the search for drinking water associated with leaking pipes. As the world's only drinking water leak detection provider, their algorithm brings remote sensing technologies to the forefront of protecting the earth's resources. Headquartered in Rosh Ha'Ayin, Israel, with a United States subsidiary in San Diego, CA, Utilis currently provides innovative solutions for utilities around the globe. For more information on Utilis and to learn more about our technology visit https://utiliscorp.com/
ABOUT SEEDS&CHIPS
Seeds&Chips, The Global Food Innovation Summit, founded by entrepreneur Marco Gualtieri, is one of the most significant global events in the field of Food Innovation and is an exceptional showcase entirely dedicated to the promotion of technologically advanced solutions and talent from all over the world. The Summit brings together some of the most influential actors in the world of food innovation to discuss the themes, models and innovations that are changing the way food is produced, transformed, distributed, consumed and experienced. At the Third Edition of Seeds&Chips, President Barack H. Obama delivered the keynote address in his first post-presidency appearance. The Summit welcomed over 300 international speakers, 240 exhibitors and 15,800 visitors, recording 131 million social media impressions in four days. The Fourth Edition of the Seeds&Chips Global Food Innovation Summit took place at MiCo, Milano Congressi, from 7-10 May 2018. The Fourth Edition welcomed another impressive roster, including former US Secretary of State, John Kerry.