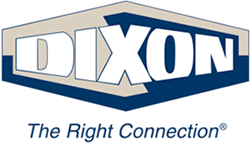 CHESTERTOWN, Md. (PRWEB) June 20, 2018
Dixon Valve & Coupling Company, a leading worldwide manufacturer and supplier of hose fittings and accessories, announces the introduction of new Dixon Loading Arms.
Dixon Loading Arms are used for the transfer of liquids and dry materials in a wide range of industrial and other applications such as refineries, chemical plants, and food and beverage plants. They are also used in tote and drum filling applications as well as rail and truck terminal operations.
Dixon Loading Arms are engineered for long-life performance as well as ease of use in the field. Their design allows for a smooth movement and minimal effort to balance the arm in multiple positions. In addition, available D or ball handles can be attached to the loading arm for easy maneuverability when connecting the arm to trucks or other equipment.
Three swivel joint sealing options are offered – O-ring, V-ring and split-flange – along with a choice of three different torsion spring rates to optimize performance depending on the length and load on the loading arm. The unique Dixon counterbalance adjustment mechanism makes for safe and easy adjustment of the torsion spring. While not intended for adjustment under load this design makes for safe and easy adjustment, once the weight of the arm is supported, by simply turning the adjustment bolt to increase or reduce the tension on the spring.
Additionally, Dixon Loading Arms feature a steel housing for the torsion spring rather than the conventional plastic housing of competing products, for better durability and long-life performance.
Likewise, Dixon Loading Arms are engineered for ease of service in the field. In many cases multiple grease ports are available to allow for proper lubrication and to prevent problems caused by over-greasing. When possible the grease ports on Dixon Swivel Joints will also be recessed to prevent the grease fittings from being snapped off during punishing field service operations.
Dixon Loading Arms are offered in left and right-hand configurations. They can be supplied as complete turnkey assemblies or as individual components (API coupler, safety breakaway, swivel joint, pipe leg, counterbalance, D or ball handle, etc.). Typical sizes range from 2" to 4" and are available with a wide range of options. Custom loading arm sizes and configurations are also available. Lead times are generally an attractive two to four weeks on many loading arm orders.
For more information about new Dixon Loading Arms and to view a brief descriptive video, visit http://www.dixonvalve.com/loadingarms, contact the Dixon Specialty Products customer service team at 888-226-4673, or e-mail your request to dspsales@dixonvalve.com.
About Dixon
Dixon is a leading manufacturer and supplier of hose fittings, fluid control products and accessories. The company serves a broad range of industries – including the agricultural, chemical, construction, fire prevention and suppression, food and beverage, industrial, mining, petrochemical and pharmaceutical segments – by offering the market's most comprehensive product line available from a single source.
Established in 1916, Dixon celebrates over a century of Uncommon Excellence™ in supporting its customers and helping industry run better.