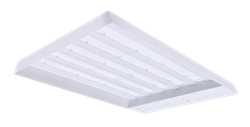 MyLEDLightingGuide High Performance LED Linear at an amazing price - ready to ship. 1000's in stock in the USA.
NAHUA, N.H. (PRWEB) June 25, 2018
MyLEDLightingGuide announces the availability of DLC Premium Certified LED Linear High Bay for Warehouses and Factories. This LED Linear High Bay can replace 250W to 1000W Metal Halide.
This feature-rich LED lighting fixture includes:

high quality LED chips
high quality mean well drivers
integrated sheet steel heat sink, LED TC<60°C (@ 25°C ambient)
0-10V dimming and dimming motion sensor optional
frosted cover
chain mounts with V-clips, cable hanging with V-clips
5-year warranty
There are several options on these currently in-stock high bays including:

motion sensor
dimming
aisle lens or medium lens
MyLEDLightingGuide commercial and industrial customers will benefit from this new certification by applying for rebates with their current utility provider. MyLEDLightingGuide representatives can help customers determine if rebates are available.
About Us
It is the primary goal at MyLEDLightingGuide.com to help the commercial customers save energy and money by using safe, efficient LED lighting for their facilities. Our goals are to educate the customer with real information about LED Lighting and show them how to convert from their older style lights over to LED.