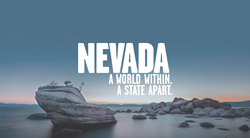 RENO, Nev. (PRWEB) June 20, 2018
Nevada-based digital marketing agency Noble Studios announced today it would become the digital agency of record for the Nevada Division of Tourism (TravelNevada).
As the official tourism group for the state, TravelNevada is a cabinet-level agency that "works to market Nevada as a premier destination for leisure and business travelers and enhance the quality of life for all who live in the state," according to its website.
The group aims to showcase Nevada's "most exciting, intriguing, creative and historic experiences," particularly through its tourist website, TravelNevada.com.
In its work with TravelNevada, Noble Studios will focus on providing more relevant and personalized online experiences for potential visitors to the Silver State. With offices in Reno and Las Vegas and deep experience in the international travel and tourism sector, Noble will highlight the known areas such as Reno, Lake Tahoe and Las Vegas, while also unearthing the hidden treasures such as Red Rock, Pyramid Lake, the Ruby Mountains and the state's myriad of hot springs.
"TravelNevada is proud to partner with an innovative and highly experienced digital agency like Noble Studios. Their reputation is impeccable, and their previous work is well-known as being among the best in the field," David Peterson, interim director for the Nevada Department of Tourism and Cultural Affairs, said. "Noble brings vital destination marketing experience and, as a Nevada-based agency, local insight to our integrated team. We are excited to benefit from their vision and digital leadership."
The scope of work includes User Experience (UX) enhancement, Search Engine Marketing (SEO), an integrated search strategy for both paid and organic search, the creation of a native app, Conversion Rate Optimization (CRO), website performance and creative services.
Noble CEO and co-founder Jarrod Lopiccolo said he was thrilled that his agency – which was founded in Carson City – is getting the opportunity to leverage its national experience in its home state.
"We're excited to bring together traditional advertising with digital advertising into a true omni-channel experience and to be brand ambassadors for our home state," Lopiccolo said. "We positioned this project to TravelNevada as an opportunity to connect visitors looking for an authentic experience with Nevada's unique destinations."
TravelNevada is looking to employ data to drive decision making and optimize its marketing based on this performance. Noble Studios has 15 years' experience measuring and analyzing marketing data and achieving results against a competitive set, so the learning curve will be short as the agency takes on the project. Noble's main goal is to attract more international visitors who will drive economic impact to the state.
Noble has previously performed digital marketing, web design, content marketing and Search Engine Optimization (SEO) services for clients such as Yosemite.com, The Islands of Tahiti, Tahoe South, Newport Beach, Santa Monica, Visit Reno-Tahoe, Visit Fargo and many others.
The work is set to begin July 1, 2018.
About Noble Studios
Noble Studios is a digital marketing agency specializing in web, mobile and social media. Since 2003, the company has completed work for international brands such as Autodesk, Enphase Energy, Easton, Google, Yosemite/Mariposa County, Newport Beach & Co., Santa Monica Travel and Tourism, University of California, and more. For five years, Inc. magazine has recognized Noble Studios in its annual Inc. 500|5000 list of the nation's fastest-growing private companies. In 2014, Noble Studios was recognized as Nevada's Small Business of the Year by the U.S. Small Business Administration. Noble Studios also is an approved Google Analytics Certified Partner (GACP) and Premier Google Partner. Follow Noble Studios on Facebook, Twitter, Think Tank Blog, LinkedIn and Instagram.