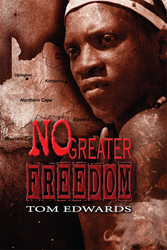 "For fans of global thrillers— and for those looking to better understand the dark underbelly of African politics— this is the book for you." — Charles Asher, reviewer
NEW YORK (PRWEB) June 21, 2018
"'No Greater Freedom' is a gripping epic that encapsulates the violent upheavals and beautiful heroism that has marked the African continent in its struggles against foreign colonialism and domestic crime and corruption. Presenting a multifaceted narrative that tears across the borders peppering Southern and Eastern Africa, the novel blends detective fiction, political thriller, and travelogue in an interweaving literary maelstrom filled with police investigators, arms dealers, drug smugglers, vengeful women, and freedom fighters— all enmeshed in both personal struggles and the continental survival of Africa itself. Author Tom Edwards employs lush imagery and strikingly idiomatic descriptions that brim with authentic, local color, thereby pulling the reader into these arresting landscapes home to unique— often troubled— and impeccably drawn characters, each with his or her own story that, inevitably, collides with the international drama that connects them all. For fans of global thrillers— and for those looking to better understand the dark underbelly of African politics— this is the book for you." — Charles Asher
The threat of insurgence within an African nation ties one detective's investigation to a series of events, from political corruption to multinational drug trafficking in Tom Edwards's compelling novel, "No Greater Freedom."
Detective Steve Konig is investigating weapons stockpiles believed to be part of a plot by Zulu rebels to form their own sovereign homeland. But when a police inspector is savagely murdered on the Cape Town docks Konig suspects a connection between the threat of Zulu insurrection and the recent homicide. Going undercover as a passenger on a cruise ship, Konig gathers evidence that will hopefully lead to the source of the weapons, and the motive behind the detective's murder.
Several hundred miles away another detective, Francis Mackenzie, is investigating a poaching racket near the Serengeti Plain south of Kenya. He unearths evidence that leads him to suspect that his investigation is tied to detective Koning's case, and their paths eventually collide.
Teaming up, Koning and Mackenzie uncover a corrupt government minister in the department of Internal Security, who operates a wide criminal network involving drug smuggling and sexual perversion. But the investigation turns personal when an innocent woman is caught up in the minister's plans, and another makes the supreme sacrifice to save the one man she loves.
The setting for "No Greater Freedom" plays out in South Africa, East Africa, Asia, The Comores and the Maldives. It reaches into the depths of inhumanity and soars to the heights of sacrifice.
About the Author: Tom Edwards has lived and worked in South Africa, Zambia, and Namibia. He has sailed the world, encountering pirates and hurricanes, and was shipwrecked off the coast of New Zealand. It was these adventures and the urging of friends that inspired Edwards to write his stories, including "If I Should Die," his self-titled autobiography, "Tom," and other stories. Edwards currently lives on the shores of Lake Macquarie in New South Wales, Australia, and is writing several forthcoming books.
NO GREATER FREEDOM (ISBN: 978-1-60911-694-1) is available for $16.50 and can be ordered through the publisher's website: http://sbpra.com/TomEdwards or at Amazon.com or Barnesandnoble.com.
It is available digitally (e-Book ISBN: 978-1-61897-693-2, Kindle ISBN: 978-1-62212-999-7) for $9.99 at Amazon.com and Barnesandnoble.com and in multi-formats for other e-Readers through numerous vendors online.
WHOLESALERS: This book is distributed by Ingram Books and other wholesale distributors. Contact your representative with the ISBN for purchase. Wholesale purchase for retailers, universities, libraries, and other organizations is also available through the publisher; please email bookorder(at)sbpra.net.