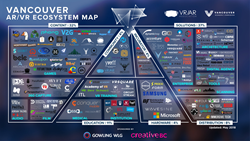 Vancouver is poised to become a leading international hub for VR/AR, and we can't be more excited to partner with the VR/AR Global Summit
VANCOUVER, Canada (PRWEB) June 20, 2018
Today the VR/AR Association (VRARA) announced their partnership with Shape Immersive and Victory Square Technologies as the Presenting Sponsors for the VR/AR Global Summit to be held in Vancouver Canada in September 2018. The VR/AR Global Summit brings together world leaders in the space of VR/AR/MR/XR to discuss the present and future of immersive technologies.
Shape Immersive is a new spatial data exchange startup incubated by Victory Square Technologies that aims to make spatial data universally accessible so anyone can create scalable and persistent AR/MR experiences. The startup is only four months old, but it had already demonstrated the world's first and most spatially accurate multi-player MR experience at TED 2018 and Augmented World Expo.
"Vancouver is poised to become a leading international hub for VR/AR, and we can't be more excited to partner with the VR/AR Global Summit," said Alex Chuang, Co-founder and CEO of Shape Immersive. "In the next few years, advancement in immersive technologies will allow us to interact with digital information in a more natural and intuitive way. We're excited to support the growth of knowledge and partnerships for immersive technologies across all industry verticals."
Shape Immersive and Victory Square Technologies will also be hosting a Pitchfest at the Summit, featuring judges from The VR Fund, Women in XR Fund (WXR), GFR Fund and SuperVentures and more. The Pitchfest will take place on Friday, September 21, 2018 at the event, with a grand prize of USD $15,000. Submissions will open on June 26th, 2018.
The VR/AR Global Summit will take place from Sept 21-22, 2018 at the newly launched Parq Vancouver, a casino and entertainment complex in Vancouver Canada. The event will feature dynamic keynotes, collaborative conversations, workshops, creative hubs, demos, exhibits, breakouts and amazing VIP events. It will showcase the best, and most interesting projects, that the industry has to offer.
Speakers at the conference include representation from The Vatican, NASA, HTC Vive, IBM Watson, Amazon and more.
"Having the support from Shape Immersive and Victory Square Technology as a Presenting Sponsor of the VR/AR Global Summit is truly an honor, and is helping to bring together a global community of some of the brightest minds in the VR and AR industry, as well as some of the leading brands utilizing VR and AR technologies," said Nathan Pettyjohn, President of the VR/AR Association.
The Vancouver VR/AR/MR Ecosystem is the second largest in the world, with over 200 companies that are documented working in this technology. Other great Cascadia sponsors for the Summit include Microsoft, YDreams Global, Atheer, Blueprint Reality, LlamaZoo, and many others.
The VR/AR Global Summit will take place September 21-22, 2018 in Vancouver Canada.
For press inquiries or for more information please visit the website at http://www.thevrara.com/vr-ar-global-summit
To get involved in the Summit, please contact Anne-Marie Enns, Executive Producer at am@thevrara.com
About Shape Immersive
Shape Immersive is building a decentralized marketplace that will make geospatial data universally accessible so that anyone can create scalable, persistent and multi-user Augmented Reality experiences. By using blockchain technology, Shape Immersive aims to build an open and meritocratic network that empowers a distributed workforce to provide and validate geospatial data.
About VR/AR Association
The VR/AR Association (VRARA) is an international organization designed to foster collaboration between innovative companies and people in the VR and AR ecosystem that accelerates growth, fosters research and education, helps develop industry standards, connects member organizations and promotes the services of member companies.