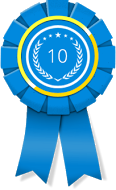 NEW YORK (PRWEB) June 21, 2018
10 Best Design has recently announced the winners of its Best Custom Web Design Firm awards. Blue Fountain Media received the top award for its impressive expertise and performance.
Firms honored with this award have demonstrated excellence in the area of web development for clients who require specific solutions. Each agency receiving an award is judged on customer satisfaction, web development expertise, variety of services offered, and numerous other factors. Award winners have consistently demonstrated qualities that make an agency a top custom web development business.
Leading this month's winners is Blue Fountain Media, a top custom web design firm based in New York. The agency has offices in many parts of the country, allowing it to serve clients on both coasts. It offers a variety of custom solutions, which include mobile app development. Blue Fountain Media is a full-scale digital marketing agency that helps clients achieve better brand recognition.
Ruckus Marketing is also being honored for its custom web design services. This firm has been serving clients in New York and other areas of the United States for several years. As a leading custom web design firm, Ruckus Marketing has a proven track record of success in web development for various sectors. The team at Ruckus Marketing includes professional designers and marketers who create digital campaigns which encompass multiple strategies. The firm is now in its tenth year of existence.
SPINX Digital of Los Angeles has extensive experience in web development for mobile platforms. This experience is what landed the firm on the list of best custom web development businesses. SPINX Digital specializes in helping clients with online marketing, enterprise CMS solutions, and brand strategy. Each client is given personal attention to determine specific needs. In addition, the team at SPINX Digital invests many hours in devising effective measures that help clients increase revenue and visibility.
These latest accolades for custom web design firms are a new monthly award from 10 Best Design. Award winners can be trusted to provide superior services. The firms who qualify for these awards must satisfy stringent criteria while maintaining consistency in the services they provide. Multiple factors are considered when granting these awards, not the least of which is a firm's reputation with its clients.
For more information about the award winners for this month, visit http://www.10bestdesign.com.