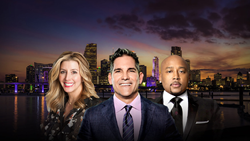 If you want valuable and powerful insights and the knowledge to grow your business to unbelievably successful levels, attend. —Grant Cardone
MIAMI (PRWEB) June 20, 2018
New York Times bestselling author, social media sensation and the world's number one sales expert, Grant Cardone, is holding one of the most highly anticipated business growth conferences in the sales and marketing industry at the James L. Knight Center in Miami on Friday, June 29th. Joining him on stage for this incredibly popular experience will be Shark Tank TV star and creator of the FUBU clothing line, Daymond John. In addition, the world's youngest female self-made billionaire, Sara Blakely, founder and CEO of Spanx, will be speaking.
The one-day intensive conference will focus on getting attendees more business, discovering new ways to generate more income for themselves and how to improve their lives. Topics will include how to brand yourself like the top social influencers in the world, the key to eliminating fear and rejection in business, and five strategies to double income in 60 days. Attendees will not only come away motivated by this event, they'll know the strategies and methods these speakers used to build their wealth and success.
Grant Cardone, CEO of Cardone Training Technologies, states, "I handpicked Daymond John and Sara Blakely to join me at this event because of the value I know they'll bring to every attendee. They each have an incredible and inspiring story to share of how they faced adversity and failure to build their empires."
The Grant Cardone 10X Conference is a one-day, premiere business growth conference tailored to sales and marketing professionals, business owners and entrepreneurs. It will be held in downtown Miami on Friday, June 29 with tickets starting at just $99.
"If you want to be inspired, attend this one-day conference. If you want valuable and powerful insights and the knowledge to grow your business to unbelievably successful levels, attend. If you want to get advice and information from some of the most influential business owners, don't miss this conference!" —Grant Cardone.
For more information and ticket prices visit https://deal.grantcardone.com/10xmiami/
About Grant Cardone: Grant Cardone is a New York Times bestselling author, international social media influencer, the number one sales trainer in the world, and an internationally renowned speaker on leadership, real estate, investing, entrepreneurship, social media, and finance. He owns five companies with annual revenues exceeding $100 million.  He is a regular guest on Fox News, Fox Business, CNBC, and MSNBC. He also is a contributing writer for Forbes, Success Magazine, Business Insider, Entrepreneur.com and the Huffington Post.