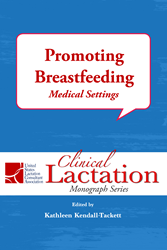 The knowledge medical professionals need to help women breastfeed.
(PRWEB) June 22, 2018
Promoting Breastfeeding: Medical Settings, edited by Kathleen Kendall-Tackett, gathers the latest articles on the subject of working with health care providers on the subject of breastfeeding, letting the reader know what to look for, what to address, and how to resolve conflicts that may come up with health care providers.
Women often seek breastfeeding advice and support in medical settings. If the doctors and nurses they contact are knowledgeable about breastfeeding, then their advice will likely be helpful. Unfortunately, if the providers are not knowledgeable, their advice is less likely to help mothers succeed. How much do health care providers know about breastfeeding? What tools can help in breastfeeding education? How can IBCLCs work effectively with other health care providers?
Promoting Breastfeeding: Medical Settings is a compilation of recent articles that address these important questions. Women are more likely to successfully breastfeed when we can all work together. Promoting Breastfeeding: Medical Settings will help you work more effectively with providers in medical settings to promote, protect, and support breastfeeding.
Dr. Kendall-Tackett is a health psychologist and International Board Certified Lactation Consultant, and the Owner and Editor-in-Chief of Praeclarus Press, a small press specializing in women's health. Dr. Kendall-Tackett is Editor-in-Chief of two peer-reviewed journals: Clinical Lactation and Psychological Trauma. She is Fellow of the American Psychological Association in Health and Trauma Psychology, Past President of the APA Division of Trauma Psychology, and a member of the Board for the Advancement of Psychology in the Public Interest.
Praeclarus Press is a small press founded by health psychologist, Dr. Kathleen Kendall-Tackett, focusing on women's health. The mission of Praeclarus Press is to publish books that change people's lives. Praeclarus Press is based in Amarillo, Texas.
Promoting Breastfeeding: Medical Settings is available at PraeclarusPress.com or on Amazon.com.