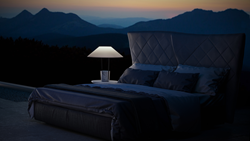 Brilliant. Futuristic. Bright like no others.
NEW YORK (PRWEB) June 25, 2018
Dusk Motion, a revolutionary objects of lighting company, celebrates their highly anticipated entrance into the home automation market with the introduction of their first product, Dusk One. Embedding cutting edge Artificial Intelligence technology into their products, Dusk Motion is the world's premier smart lamp company; building the future with a luxurious twist on smart home living.
Thibault Le Conte, founder of Dusk Motion, serial startup entrepreneur and smart technology innovator, is a French native with a flair for high-end European design. Pairing Le Conte's background in inventive technology with his passion for discovery, he set out to develop an elegant product which featured high-end European materials and cutting-edge, yet user-friendly technology. Le Conte, obsessed with user experience and design, kept these concepts in the forefront throughout the development of Dusk One. Evaluating premium materials and artisan skills directly from the source, the Dusk Motion team imagines, designs and creates products packed full of emotion.
Despite the unparalleled finesse, Dusk Motion products are deceptively brilliant and resilient. With their first product coming later this year, innovative Artificial Intelligence is hidden behind the guise of sleek marble and robust steel to create an unforgettable experience. With the ability to intuitively learn the lighting preferences and daily habits of its users, sustainability and security come along with optimal convenience. Also connected with Wi-Fi and compatible with pre-existing smart home systems, like the popular Amazon Alexa, Google Home Assistant and Apple Siri, Dusk Motion products can be controlled with a manual touch-sensitive switch or through voice commands. The seamless setup and operation ensures that Dusk Motion products are giving access to the latest proven technologies to everyone.
Dusk Motion was first established in 2016 with the prototype of a next generation chipset embedded in a traditional lamp. For two years, the company has perfected the design by sourcing materials and techniques from world renowned experts in Europe to ensure a seamless fusion between precious and natural materials from the last centuries with futuristic electronics. With the belief that full understanding and control from concept to retail and up to customer experience should be in the company DNA, Dusk Motion products are created by and for people with the conviction that functionality is an extension of design. Dusk Motion will introduce their first product, Dusk One, later this year. Stay informed of its unveil date and be part of its limited pre-order list at http://www.duskmotion.com/lamp/dusk-one.
Media Kit available at https://blog.duskmotion.com/dusk-motion-enters-home-automation-market-with-an-iconic-and-unrivaled-design-eaf7199edde2.